Amazon Kindle 2 to arrive within weeks?
Announcement fuels speculation
Speculation is building that Amazon is ready to unveil its second-generation Kindle ebook reader within weeks.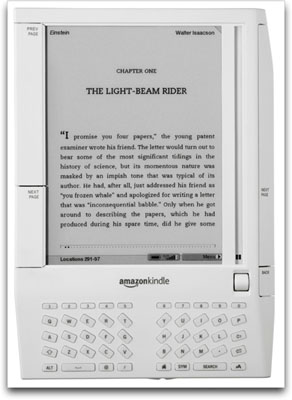 Amazon's first-gen Kindle: its successor will be more curvaceous
Although talk of a second-gen Kindle is nothing new – rumours were doing the rounds all last year – various online sources have recently reported that Amazon's now scheduled a press conference for 9 February at the Morgan Library and Museum in New York.
Amazon CEO Jeff Bezos will be attending, adding fuel to speculation that he'll personally unveil the Kindle 2.
The updated model's expected to sport a sexier design, which could see the original device's oddly shaped buttons replaced with circular ones and smaller buttons added onto the side.
The first Kindle has an electronic ink screen made by firm E Ink and its Chief Executive, Russell Wilcox, recently described the features of the Broadsheet screen-controller chip – as featured in Sony's rival PRS-700 reader and thought to be included in the Kindle 2 – in a New York Times interview.
He said the chip allows for faster screen refreshes and makes for a generally more response screen. "If you want to do anything else [other than reading] with your device, zooming in, look up words, whatever, you really appreciate the [chip's] speed," he said. ®