RIM BlackBerry Curve 8900
Bold junior
Review Looking a lot like Blackberry's flagship, the Bold 9000, the latest handset from Canadian email maestro Research in Motion (RIM), is a slightly more compact version of that phone but still manages to pack in almost all of the same features.
There's Wi-Fi, GPS and a gloriously detailed screen, as well as Blackberry's trademark ease with email. But the 8900's glaring omission is 3G connectivity. Yes, that helps to reduce both price and size, but this is a smartphone, and good web access is essential to get the most out of it, so this seems like an unnecessary handicap. With its Wi-Fi connection, fast surfing isn't impossible, but it does severely limit your options as to where you can do it.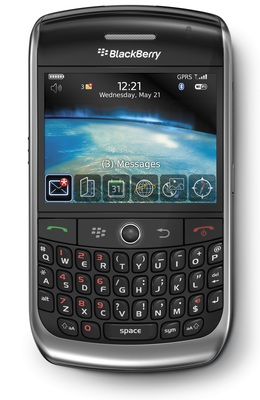 RIM's BlackBerry 8900: Bold junior
Looks-wise, the 8900 clearly takes after the Bold rather than its immediate predecessors in the Curve series, which, lacking the new model's delicately curving style, tended to come over rather blocky and corporate. Just because it's efficient doesn't mean a smartphone can't look cool.
The 8900 also manages to be significantly smaller than the Bold, measuring 109 x 60 x 14mm and weighing 110g to the Bold's 114 x 66 x 15mm and 136g. Anything that helps a Blackberry fit more easily in your pocket has got to be a good thing, and this one manages it without sacrificing any usability.
The 2.4in, 480 x 360, 65,000-colour screen looks great, as does the icon-based menu system from the latest BlackBerry 4.6 OS, which we've seen on both Blackberry's recent Bold and Storm models. There's a quick, six-icon bar on the home screen for easy access to the most-used functions, and the menu button brings up a feast of apps, all easily accessed using the Blackberry's rather lovely trackball. Incidentally, the 8900 comes with a little leather-look pouch to protect the screen which is effective, but does bulk it out quite considerably.