This article is more than 1 year old
Logitech Harmony 1100 universal remote control
One to rule them all?
Review The latest in Logitech's line of universal remotes is essentially a revamp of a product the company introduced more than two years ago. The 1100 is all about refining the old Harmony 1000 for the design demands of 2009's consumer rather than 2006's.
First impressions are good. This time round the brushed metal upper surface has been tinted black and together with the soft-touch back gives the 1100 an attractive appearance as well as a comfortable feel in the hand.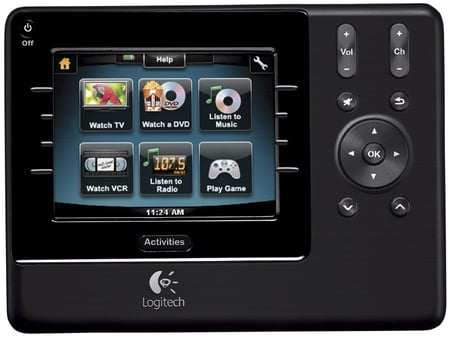 Logitech's Harmony 1100: just like the 1000, only black
What separates the 1100 from Logitech's other Harmony remotes is its big, 3.5in, 320 x 240 touchscreen, which presents a simple menu of activities, such as 'Watch TV', 'Play Game' and 'Listen to Music'. Tap one and provided the unit's been set up, it'll tell all the right bits of equipment to come out of standby and get ready to play.
Like the 1000, the 1100 also has a five-way navpad, along with up and down keys for channel and volume. We can't help think it a shame that Logitech didn't provide all these through the touchscreen UI this time round.
The 1100 comes with a USB-connected cradle that both charges up its built-in battery but also lets it talk to Logitech's set-up software. An initial charge of five hours is necessary to get the unit up and running. Once you have power, it's time to configure the controller with all of your kit.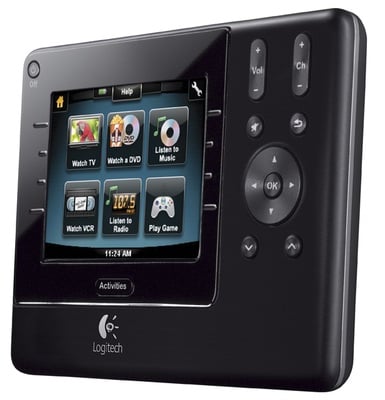 Comfortable in the hand
You do need to get the make and model number of every unit in your stack, which means crawling around on the floor and realising that you really must dust more often.