Logitech Harmony 1100 universal remote control
One to rule them all?
---
That done, you can load up the supplied CD into your PC or Mac and follow the step-by-step guide that walks you through adding your equipment to the 1100. Logitech reckons it should take around half an hour to get everything sorted, and we'd say this is about right, although obviously the more stuff you have, the longer it takes.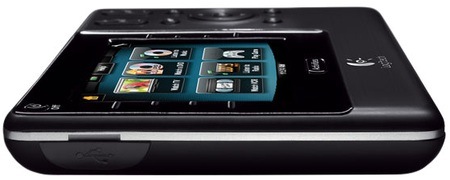 USB connection
Like the 1000 before it, the 1100 can cope with as many as 15 devices. Logitech has a database containing a staggering 225,000 products from 5000 brands - the world's largest, it boasts - so most of your kit should be covered, allowing each item's control codes to be transferred to the remote. However, if you have something either very old, very new or just plain weird, you can teach the 1100 to control the device using the original remote, and there's a tutorial in the CD which takes you through the process.
The flaw with the set-up routine is that, as with all Logitech Harmony remotes, you need to set up an account to do this. Forcing you to register before you can use the product you just spent £349 on seems a bit much to us. Usefully, though, you can create more than one profile, allowing the same unit to be used in different locations or by different users.
Logitech's list of kit doesn't just extend to home entertainment equipment, you can also use it to control lighting and heating systems, a whole range of home appliances, and even your own computer. The home automation side of things only works if you have a suitable system in place already to which the 1100 can send control signals in place of an existing remote.
Incidentally, Logitech also offers an £80 radio-frequency unit that can pick up RF signals sent by the 1100 - as the 1000 could before it - and feed the commands to a rack of kit stored out of sight and beyond the 1100's main infra-red transmitter.

Slimline
We set the unit up to control a Thomson Sky+ box, a Samsung 40in LCD TV, a Bose 3-2-1 GS home cinema system and a curve ball in the form of a Brennan JB7 music server. We found loading the products in and getting them configured very straightforward with an easy-to-follow menu system and well thought out Q and A-based troubleshooting and configuration guides.