Logitech Harmony 1100 universal remote control
One to rule them all?
---
The first times you launch an activity like 'Watch a DVD', the 1100 checks that everything is working fine by asking the user if the desired sequence was achieved. If not, it takes the user through a series of Q&As and troubleshooting suggestions to get things moving.
The touchscreen and physical buttons well and proved to be a good way to navigate most of our kits' menus. When not in use, the unit powers down very quickly - you can adjust this if you want - and also comes to life the second you pick it up. The touchscreen responds quickly and positively, and the unit overall scores well in terms of response time, easily keeping pace with something like a Sky remote.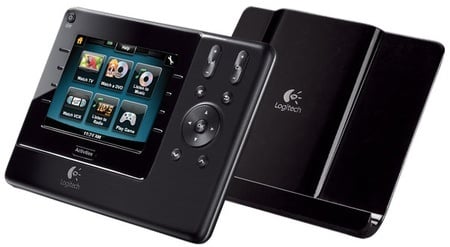 Docking cradle included
The 1100's display is surprisingly open to customisation. You can load your own menu background image, and it's also possible to change the wording of the main activities to your choice: transform 'Watch a DVD' to 'Action!', for instance. You can also replace text-based commands with a list of icons, or mix icons and words. It's also possible to load up icons for your favorite TV channels - but not for items in the main activities menu.
Speaking of which, you can add activities of your own devising, like powering up the TV and swiching straight through to a particular TV channel, or to open the DVD tray when choosing to 'Watch a DVD' rather than play whatever disc happens to be in there.
If you want to be really clever, you can even adjust the length of time a particular command is transmitted. So, if the volume-up command from the remote ups the volume too much with each press, you can make the increase smaller.
The design does mean the 1100 generally requires you use two hands to operate it, but the extra screen size that the design delivers makes it worth this slight inconvenience. A small gripe is that the unit could sit a little more firmly in its cradle, its pretty easy to brush passed it an knock it off, so a little thought is needed when finding a home for the base station.
Verdict
All good stuff, but is it really worth the best part of £350? There's no doubt the 1100 does what it promises to do and does it well - especially the ease with which it can be set up. Logitech's control code database is commendably comprehensive. But that's true of the company's other universal remotes, such as the 525, which will only set you back £50. The difference is down to the big touchscreen, which, while nice to use, doesn't really add a great deal to the user experience. ®

Logitech Harmony 1100 universal remote control
Looks great and works well, but you can get the same features for less from other universal remotes.