Sony unwraps 'world's thinnest' LCD TV
Wireless HDMI linkage on board
If you can't afford Sony's super-expensive 11in XEL-1 OLED TV, yet crave a slim telly, check out what the electronics giant has claimed is the world's thinnest LCD TV.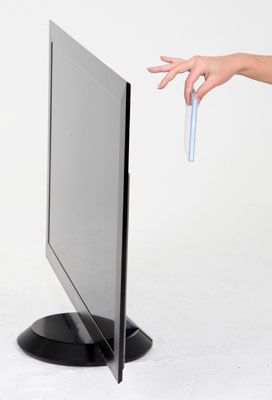 Sony's ZX1: measures 9.9mm and is wireless
The Bravia ZX1 measures 9.9mm at its slimmest point and combines a 1080p resolution with three screen size options: 42in, 46in and 52in. Its CD-case thickness was achieved, Sony said, by using side-mounted LCDs instead of a traditional backlighting arrangement.
While its 100Hz refresh rate may not be the fastest currently available, the ZX1's "Bravia 1080 Wireless" technology is sure to appeal to cable-free junkies. Why? Because it allows the TV to communicate wirelessly with an adaptor unit packing three HDMI ports.
Elsewhere on the set, you'll find the PlayStation 3-style XMB user interface for on-screen menu navigation, and a USB port for importing still snaps that can be viewed in "Picture Frame Mode".
Sony hasn't announced a launch date for the ZX1 yet, but it'll cost £2290 ($3270/€2465) whenever it lands in Blighty. ®