EU funds Antipodes-in-90-mins rocketliner concept
Winged droptanks recovered midair by 747 sky-tugs?
---
The EU is funding a radical German design for an exo-atmospheric rocketliner capable of making a daily run from Europe to Australia in ninety minutes. The plans might even include winged glider droptanks, recovered in midair after use by aerial tugs. The bad news is, the ship isn't realistically expected in service until 2075.
Flight International reports that the European government, working with the European Space Agency (ESA), has assigned €5.1m, with an industrial contribution of €2.2m, for work on the Future High-Altitude High-Speed Transport (FAST) 20XX effort.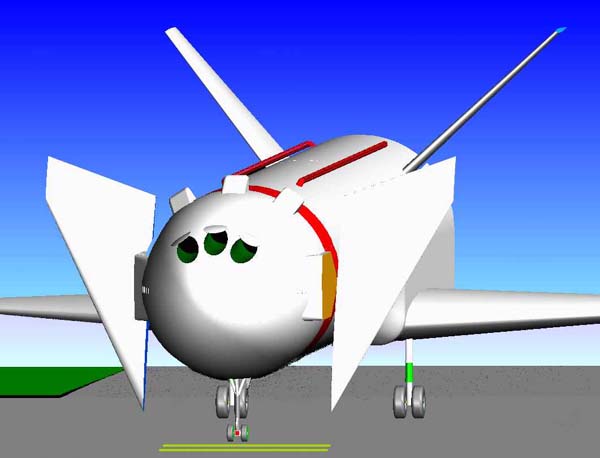 That's just the droptank. Wait 'til you see the ship.
FAST 20XX is to include design studies on two possible projects. The first is a suborbital joyrider of the same general capability as the Virgin Galactic SpaceShipTwo fatcat-flingers being built for Richard Branson.
The second more interesting project is based on the "SpaceLiner" plans developed by the Deutsches Zentrum für Luft- und Raumfahrt (DLR,"German Centre for Air and Space Travel") the German equivalent of NASA.
The SpaceLiner would consist of a 50-passenger rocketplane piggybacked on a winged droptank craft, burning liquid hydrogen and oxygen. It would launch vertically and carry out most of its journey too high for any effective air resistance - the way that intercontinental ballistic missiles fly. This would avoid any hassles with sonic booms, fiddly scramjets and the like.
Emptied during the boost phase, the winged droptank craft would drop off and glide back for landing, refuelling and re-use at the launch site. Alternatively, it might be captured in mid-glide by a specially-equipped tug aeroplane and towed back for a runway landing - the DLR boffins have worked out such plans for strapon reusable boosterships to be attached to the Ariane 5 launcher. There's a rather shoddy vid of the tug recovery concept here: apparently the tug plane would be a 747.
Arriving at the Antipodes, the main passenger rocketplane would use "skip" braking rather than a normal re-entry so as to get by with simpler and lighter heat shielding than the space shuttle, and so glide down to land.
According to the German space boffins, such a spaceliner would have a service life of 150 trips and need engine replacements every 25. Passengers would experience several minutes of weightlessness at the 70-mile-high apogee of the ballistic trajectory outside the atmosphere.
Ninety minutes is a massive improvement on current flight times to Australia, but even so the economics of the SpaceLiner seem a little dubious. That may account for the distinctly limited funding coughed up by the EU to look into it - not even enough for windtunnel work, apparently.
Flight reports that Wilhelm Kordulla, EU honcho in charge of the FAST 20XX project, understandably enough doesn't see the daily Antipodes-and-back rocketplane service starting sooner than 2075. However he's more bullish on the suborb joyride bird, saying a Euro rival to the likes of SpaceShipTwo and XCOR Aerospace could be operating in 2015. ®