This article is more than 1 year old
Force 1800 superhurricanes snapped on far-off world
'These images are not artists' impressions'
Pic Californian astronomers have used a NASA orbital telescope to generate unique "photorealistic" imaging of a planet nearly 200 lightyears away while it swung close by its parent star, causing an "explosion" of terrifically powerful atmospheric storms as the far-off world heated up to 1200°C.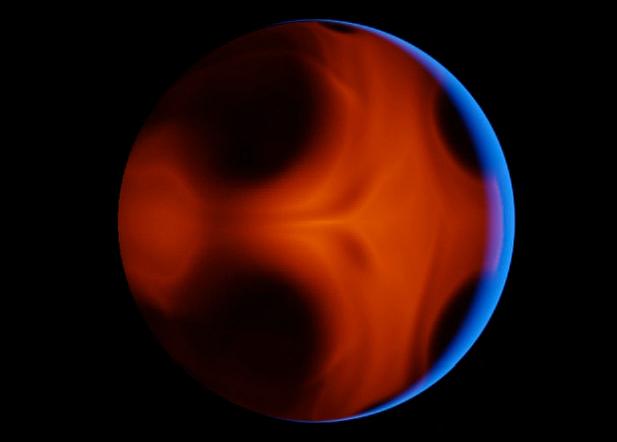 Force 1800 winds follow the 1200°C heatwave. Global warming is very helpful for wind power.
The world in question orbits the far-off yellow dwarf star HD 80606, 190-odd lightyears from here in the constellation Ursa Major. The planet, HD80606b, is several times heavier than Jupiter and so is believed to be a gas giant world.
The interesting thing about HD80606b is that it has the most eccentric orbit of any known planet, getting almost as far from its parent sun as Earth is from ours and then plunging back in to a thirtieth of that distance, whipping through this blazing close encounter in less than a day.
"If you could float above the clouds of this planet, you'd see its sun growing larger and larger at faster and faster rates, increasing in brightness by almost a factor of 1,000," says Gregory Laughlin, California Uni astro-prof.
Laughlin and his colleagues used NASA's Spitzer infrared space telescope to monitor the atmospheric temperature of HD80606b during a close pass. Generally the faraway gas-planet sees a balmy 500-odd degrees, but as the massive world barrelled in to periastron, sun swelling hotter and hotter in the sky, this soared by 700 degrees in just six Earth hours.
The Spitzer space data was fed into atmosphere simulations by California Uni postdoc Jonathan Langton, who says he was able to produce an accurate prediction of the shattering heat-driven shockwave storms raging around the planet.
"The initial response could be described as an explosion on the side facing the star," Langton said. "As the atmosphere heats up and expands, it produces very high winds, on the order of 5 kilometers per second, flowing away from the day side toward the night side. The rotation of the planet causes these winds to curl up into large-scale storm systems that gradually die down as the planet cools over the course of its orbit."
Drawing a straight line* through a Force 12 hurricane on Earth (windspeed greater than 32 metres/sec), one might say that the tri-monthly heat storms of HD80606b would hit Force 1800 on the Beaufort scale if it went up that far: or that they are more than 150 times hurricane force. Interstellar heatproof-sailplaning enthusiasts beware.
Importantly from a media gadfly perspective, the boffins chose to use their data to create "photorealistic", science-backed images of the planet during its close stellar pass. These aren't any rubbishy old artist's impressions, no sir. They're scientists' impressions.
"We can deduce what it would look like if you were there," says Laughlin. "The ability to go beyond an artist's interpretation and do realistic simulations of what you would actually see is very exciting."
One of the simul-snaps is above: there's also a vid here, and more pics plus a graph here. The research will be published this week in heavyweight boffinry journal Nature. ®
*Yes, naughty, we know. Feel free to fit the curve yourselves, or fool about with the Taiwanese Force-17 version or whatever.