5,000-year-old 'ice man' was shot to death
Had 99 problems, but dying of exposure wasn't one
---
The final days of Oetzi, the Copper Age hunter whose frozen body was found preserved in an Italian glacier in 1991, were about as rough as they come.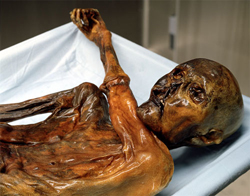 New investigations by a research team from Ludwig Maximilian University, Munich and Bolzano, Italy conclude the world's oldest "ice mummy" probably suffered at least two separate attacks leading up to his frosty demise.
In addition to being shot in the back with an arrow and bludgeoned from behind - both of which likely caused the end to his 45-year existence - Oetzi received a nasty gash on his hand just days earlier that reached down to the bone.
Basically, a real bitch of a week.
"We are now able to make the first assertions as to the age and chronology of the injuries," wrote Professor Andreas Nerlich, who lead the study. "It is now clear that Oetzi endured at least two injuring events in his last days, which may imply two separate attacks. Although the ice mummy has already been studied at great length, there are still new results to be gleaned. The crime surrounding Oetzi is as thrilling as ever!"
The body and belongings of Europe's oldest natural human mummy has offered scientists an unique look at Copper Age life since its discovery in the Schnalstal glacier on the border between Austria and Italy. For instance, the food found in his intestine show his final meal consisted largely of cereals and a bit of meat cooked on an open fire.
The copper knife found on his body combined with high levels of copper and arsenic found in his hair also suggest he was involved in smelting tools and weapons.
But the exact nature of his death has remained a considerable source of mystery and speculation. At first it was thought Oetzi had the relatively peaceful end of over-exposure in the frigid temperatures. A CAT scan study in 2001, however, discovered an arrowhead lodged in his shoulder. Further investigation indicated the arrow shaft was even removed before his demise. A bruised area discovered nearby the exit wound was likely from being stuck by a blunt object. A deep and unhealed cut on his hand also indicate his death wasn't exactly on a bed of roses.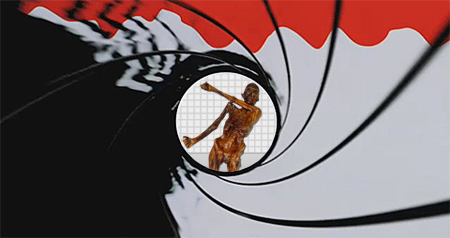 The Ice Man got shoteth
The LMU researchers who analyzed previous studies and conducted their own study of the body said Otzi probably died because the arrow hit a main artery. The injury to his hand "clearly indicated that the laceration must have been survived for at least several days."
The two injuries to his back "suggest a wound age of the back lesions of less than a few hours survival time."
The study appears in the January online issue of the journal Intensive Care Medicine. ®