Third-gen Apple iPhone in development?
Firmware code points to new model
---
iPhone fans, hold onto your hats. A block of XML in Apple's latest phone firmware has reignited rumours that a new version of the handset's in development.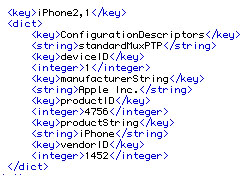 Apple's firmware refers to "iPhone2,1"
Each iPhone model carries its own version number, with the first-generation GPRS/Edge model down as iPhone1,1 and the 3G model labelled as the iPhone1,2. But, according to a report by website Mac Rumours, Apple's latest iPhone firmware lists an "iPhone2,1".
Based on Apple's previous iPhone model identification system, it's reasonable to assume that this firmware update could be some sort of preparation for a new model.
But whether we're talking about an iPhone Nano or an entirely new update of the iPhone, such as one that sports a multi-core processor to run more complex applications with ease, is difficult to say.
The firmware revelation is exciting though, so we'll keep you posted. ®