This article is more than 1 year old
Asus ENGTX285 TOP overclocked graphics card
Nvidia's new GeForce GTX 285 makes its debut
Switching to a single GeForce GTX 280 delivered 3DMark Vantage figures that were very similar to the Radeon HD 4870 X2, and that was especially true when we installed Nvidia nTune to overclock the GTX 280. We raised the core, memory and shader speeds from 600MHz, 2200MHz/1300MHz to 685MHz, 2400MHz and 1475MHz which added more than ten per cent to the benchmark results but this bears some inspection.
The latest GeForce drivers move the PhysX workload from the CPU to the GPU, which doubles the score in the CPU element of 3DMark Vantage. This clearly has an effect on the overall result so it is best to focus on the figures for GPU Performance rather than the Overall score. You can see this most clearly in the Far Cry 2 results where the GTX 280 has a frame rate that is some 20-25f/s slower than the HD 4870 X2.
We saw something odd when we measured the power draw of the overclocked Nvidia cards as the power required to display the Windows desktop decreased significantly. The figure under load increased, just as we expected, so we're confident that our testing equipment is working correctly.
Far Cry 2 Results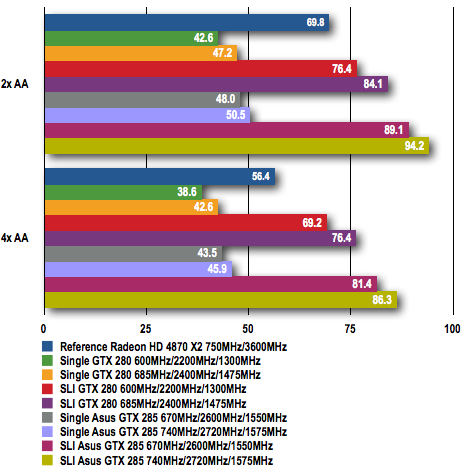 Average frame rate at 2048 x 1536, Ultra-high Quality
Longer bars are better