This article is more than 1 year old
Asus ENGTX285 TOP overclocked graphics card
Nvidia's new GeForce GTX 285 makes its debut
Bangs Per Buck Results
3DMark Vantage

3DMark Vantage Points per Pound
Longer bars are better
Switching to a single Asus GTX 285 TOP raised performance by some 13-16 per cent in our benchmarks over a single GTX 280 at standard speeds. Overclocking the GTX 285 delivered mixed result as we were unable to increase the shader speed by a useful amount. The gap between the Asus TOP GTX 285 and the GTX 280 closed to 7-9 per cent which is worth having but translates to a mere 3f/s in Far Cry 2 on extreme settings.
The power draw of GTX 285 was slightly lower than GTX 280, to the tune of 20W per card. Running a pair of GTX 285 cards in SLI gave us 85 per cent higher performance than a single Asus TOP, and we saw frame rates in Far Cry 2 that would make a grown man weep with pleasure. The differential over GTX 280 SLI increased to a full 10f/s.
Bangs Per Buck Results
Far Cry 2

Far Cry 2 average frame rate per Pound
Longer bars are better
The problem, of course, is the price. GeForce GTX 280 launched at £330 for a regular card or £370 for an overclocked job. Prices have dropped to £250-290 as retailers clear their shelves for the new GTX 285, which comes in at the same range of £330-370. That puts the Asus TOP at the, ahem, top end of the scale.
Verdict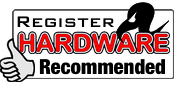 The 55nm die-shrink used in Nvidia's GTX 285 delivers a useful boost in performance, but the accompanying production-cost reduction doesn't seem to have ended up in our pockets. That takes some of the shine off the GTX 285, but there is no denying that it's a truly impressive performer. ®
More Graphics Reviews...

Desktop IGP Shoot-out

Sapphire HD4870 X2 Atomic

Radeon HD 4000 series
Group Test

Sapphire Radeon HD 4850 X2

Asus ENGTX285 TOP overclocked graphics card
Expensive - but undeniably a truly impressive performer.