iRiver Spinn media player
Why settle for a touchscreen when you can twiddle a knob too?
---
Review The iRiver Spinn seems to have been forged in the white heat of a fierce row about the merits of a touchscreen vs traditional controls. But rather than come down on one side of the fence or the other, iRiver seems to have ended the argument with a petulant 'fine, we'll have both then!'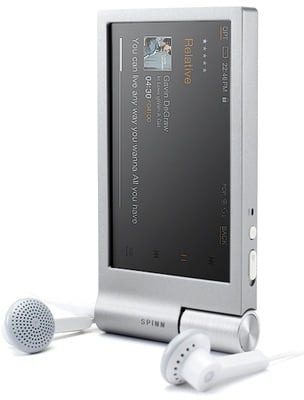 iRiver's Spinn: why have touchscreen or physical controls when you can have both?
Eschewing the sleek curves of the iPod Touch or Cowon S9, iRiver has opted for a rather severe, sharp design, albeit with a circular spindle at one end, the upper half of which is the eponymous "Spinn wheel", which can be rotated to the left or right as well as depressed.
Physically, the Spinn is just a shade smaller than Cowon's S9, measuring up at 99.5 x 51 x 10.7mm and weighing 70g. The whole thing is rendered in metal giving it a cool, modern and solid feel.
Apart from the Spinn wheel, the external controls consist of a lock slider and small 'back' button on the top; volume and power controls on the left; and a proprietary - or common-in-Korea-but-nowhere-else - USB port on the bottom.
Be warned, unless you have long finger nails, opening the USB port cover will send you hunting for a very sharp implement. We took to using a craft knife to open it, not a device – we hope – that most people keep about their person.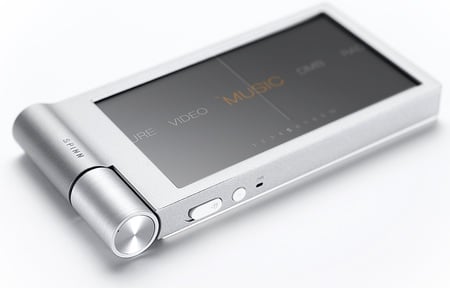 The metal casing makes for a solid-feeling PMP
Fire the Spinn up and you're presented with a rather stark home page listing the eight main menu items in text along with the time and battery status. To move from one item to the next, you can either rotate the spindle or the use the touchscreen, though if you chose the latter you have to touch the centre bottom of the screen where the numbers 1-8 mirror the menu names. Swipe the main part of the screen Touch-fashion and nothing happens. To access a menu item or setting, you simply depress the spindle when it's highlighted, or touch the relevant name on the screen.