Fring snuggles with Last.fm
But how long before the music stops?
---
Fring, developer of the free cross-network messaging and VoIP client, has added Last.FM to its supported-services list. It'll provide access to streaming music for S60 users who can share their musical tastes with the world via various forms of IM including Twitter.
Fring started out as a Skype client for Symbian S60 devices, a platform that Skype still doesn't officially embrace - but these days the chaps at Fring have included support for just about every brand of messaging service and provide some nice aggregation capabilities. Into this mix comes Last.FM, the streaming service that provides music based on your preferences, now directly to your phone.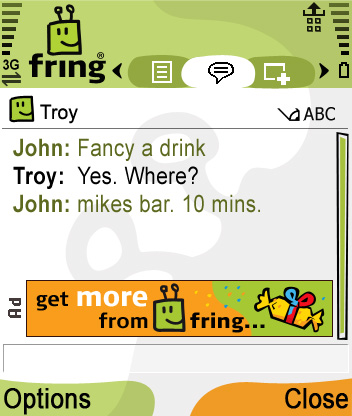 Technically impressive, and no doubt a godsend for those who can't wait to Twitter their mates with their listening habits (actually, as of writing the Twitter integration isn't quite working, but it will soon) as well as Last.FM users who want connect their streams to the phone as demonstrated in this company video, but this still won't generate any revenue for Fring.
The company has played around with various business models over the years, some quite innovative, but nothing has yet generated significant income. Fring is now testing in-chat adverts to pay for the business, though that revenue stream is far from assured; and despite signing distribution deals, including one with an Austrian operator, the company isn't making money.
The client is nice, though, and supports quite a range of messaging and SIP-based VoIP services as well as Skype. Just don't get too attached to it. ®