'Leccy Tech For a brief moment this week, the focus of electric vehicle development in Britain was Huddersfield town centre and while the location may lack the glamour of Geneva, Monaco or Los Angeles what was on show was not without interest.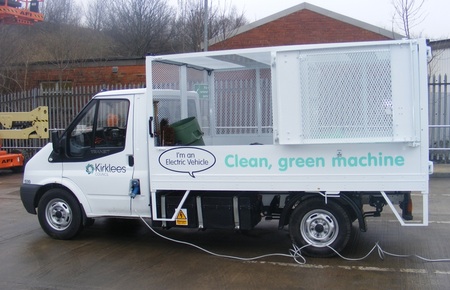 Kirklees Council's 'leccy truck: local van for local people
In what may well be a world first, Kirklees Council was showing off its shiny new 'leccy Ford Transit rubbish collection vehicle - possibly the world's first van powered by the garbage it picks up.
The van - actually a Smith Edison-modified 3.5-tonne Transit with a 40kWh lithium-ion battery pack, a top speed of 50mph, an effective range of 100 miles and a 6-8 hour charge time – will glide around central Huddersfield collecting rubbish from 25 newly installed "split bins" and take said trash to the Energy from Waste (EfW) power station-cum-recycling centre just down the road. There, the rubbish will be burnt to generate electricity that will be used to charge the van for the next days collection runs.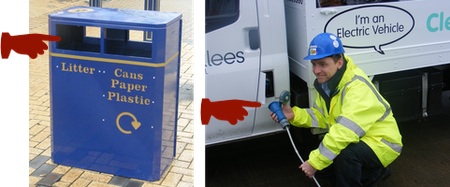 Trash goes in here... to generate power for here...
Of course, powering 'leccy vehicles is not the Emerald Street EfW's main role - on a good day it pumps around ten megawatts into the National Grid, all generated from fire-consumed rubbish that has been collected locally.
At the moment, the EfW only boasts just one recharge point for Kirklees' single EV, but it is from such humble beginnings that some form of electric car re-charge infrastructure in Britain may well grow.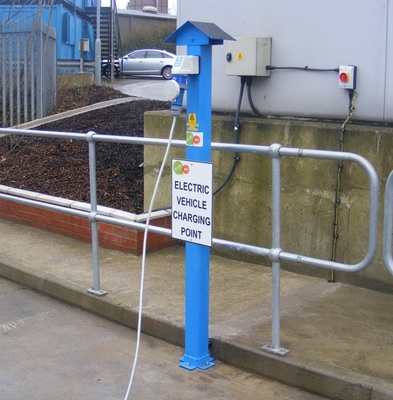 A solitary charging post, yesterday
Downsides to the project? Well, Register Hardware's suggestions that a silent bin lorry in central Huddersfield could pose safety issues for any locals who forget to look both ways when crossing the road were pooh-pooh'd until the driver mentioned that he'd had two near misses that very morning.
Cue much muttering about retrofitting more flashing lights and some form of audible warning device. We would suggest a recording of a thumping big V8. After all, if it's good enough for the Lightning... ®