Microsoft has asked for a patent to protect its idea for a smartphone docking cradle that would turn your handheld into a mini-laptop.
Microsoft's smartphone cradle
The "Smart Interface System for Mobile Communication Devices" is a docking station that would harness your smartphone's processing capabilities to let you do all your mundane laptop-based tasks, such as emailing, word processing and surfing, without ever needing to turn on your PC.
For example, slot your phone into the cradle and it could wirelessly stream video across to your telly. Alternatively, the cradle could connect your phone to a printer and full-size keyboard, or provide access to your home stereo and networked HDD.
Although similar features have already been seen in existing cradles, Microsoft's model would be equipped with a dedicated processor and memory. This would be used for storing and executing the on-board OS and an application for handling communication between the phone, peripherals and other connections, such as Wi-Fi.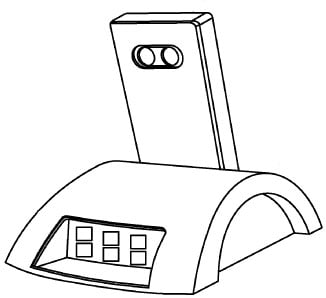 Connect your phone into just about anything
Microsoft's patent application envisages a whole host of potential peripheral connections, including "televisions (TVs), monitors, displays (eg. LCD, LED, etc.), projectors, mice, keyboards, gesture input systems, touchpads, touch screen displays, and other human interface devices (HIDs)... printers, cameras, audio and audio processing systems (eg. speakers, electronic music systems, etc), image/video and image/video processing systems (eg. video cameras, digital cameras, scanners, etc), and storage systems".
It's too early to tell if Microsoft plans to mass produce its smart cradle anytime soon. ®