Ten per cent of online computer buyers now owns a netbook and almost 20 per cent of mobile PCs sought out by buyers in December 2008 was one of these mini-laptops.
So reveals survey data from price-comparison site PriceGrabber, based on an online questionnaire fielded earlier this year and filled in by some 1545 respondents.
The results show a particular interest in netbooks, primarily from folk who already own a laptop or a desktop. Of the respondents who had bought a netbook, 91 per cent have a laptop and 87 per cent a desktop computer.
Out of the that ten per cent who own a netbook, the vast majority were in the 35-54 age bracket - a sign that netbooks aren't being bought for kids, the format's original target audience.
PriceGrabber also tracked product searches. In July 2008, of all the users who tracked prices of laptops, one per cent of them were looking at netbook products. By September, that proportion had risen to 12 per cent, and hit 19 per cent in December.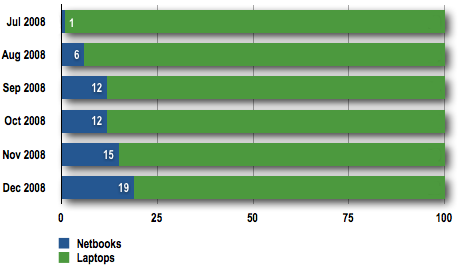 Percentage of mobile PC searches for netbooks and laptops
Source: PriceGrabber.com
Looking at the netbooks PriceGrabber users searched for, the company found that all but two of the top ten models included a hard disk rather than a solid-state drive. Average prices ranged from $336 to $484 (£236-340/€260-375).
Acer's Aspire One 150 held the top spot, and versions of it took three other places in the top ten. In second place was Lenovo's S10, followed by HP's SSD-equipped Mini 1000.
Netbook pioneer Asus took tenth place, with the Eee PC 900HA. Add laptops into the list and Asus' position drops to 23. Acer's lead falls to second place, behing Apple's 13.3in MacBook. ®
More Netbook Reviews...
| | | | |
| --- | --- | --- | --- |
| LG X110 | Toshiba NB100 | Eee PC 1000 | Acer Aspire One |