This article is more than 1 year old
Panasonic Lumix DMC-G1 12Mp µ4/3s camera
The future of the bridge camera?
Review You know the saying: if it looks like a duck, walks like a duck and quacks like a duck, then it must be a duck. Well, Panasonic's DMC-G1 looks like a digital SLR, has interchangeable lenses like a DSLR – but it isn't a DLSR. No sir, the G1 ushers in a new generation of cameras designed to blast a hole right through the middle of the so-called hybrid/bridge/superzoom market. So, is the G1 a wolf in sheep's clothing, a sheep in wolf's clothing or simply in a class of its own?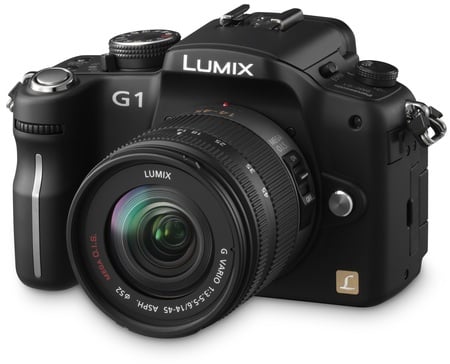 Panasonic's Lumix DMC-G1: wolf in sheep's clothing? Or vice versa?
The premise behind the 12Mp G1 goes something like this: if you were inventing a digital camera today, you wouldn't base it on technology originally designed for a film camera. So why not start with a blank piece of paper, redefine the digital camera and take advantage of the advances in technology? It's a compelling argument, but there's also a lot to be said for sticking with tried and tested technology – that's why computer manufacturers kept the typewriter's Qwerty keyboard.
The G1 is an evolution of the Four Thirds system developed by Kodak and Olympus. Its name is derived from the fact that it uses a 4/3-type image sensor, the effective imaging area measuring 17.3 x 13.0mm. This is smaller than the sensors used by DLSRs but much larger than those found in compacts.
The advantage of the 4/3 sensor is that the camera's optics can be shrunk, so that a Four Thirds lens with a focal length of, say, 200mm is comparable with a 400mm lens on a 35mm camera.
Micro Four Thirds - developed by Panasonic and Olympus - takes this size reduction even further by dispensing with the traditional SLR mirror box and using an all-electronic viewing system.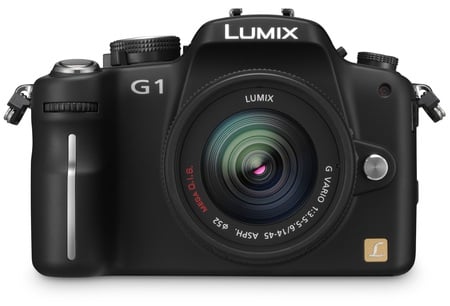 Not pocket friendly
Enough of the theory - let's take a look at the G1. The first thing you notice is how much it looks like a regular DSLR, albeit one that has been shrunk a little in the wash. That said, if you're expecting a Micro Four Thirds (MFT) camera to be the sort of product that James Bond secretly slips into a matchbox, think again, because the G1 isn't much smaller than some of the smallest DLSRs on the market. It measures 124 x 83.6 x 45.2mm and the body weighs 385g. The Olympus E-420 DSLR measures 129 x 91 x 53mm and is actually 5g lighter.
So the G1 is definitely not pocket-sized - even if your coat has deep pockets.