NASA has announced a successful test related to its new Ares I astronaut-carrying rocket, the planned successor to the space shuttle. A key part of the structure, critical to safe parachute recovery of the discarded first stage, successfully blew itself up last week during a trial on the ground in Utah.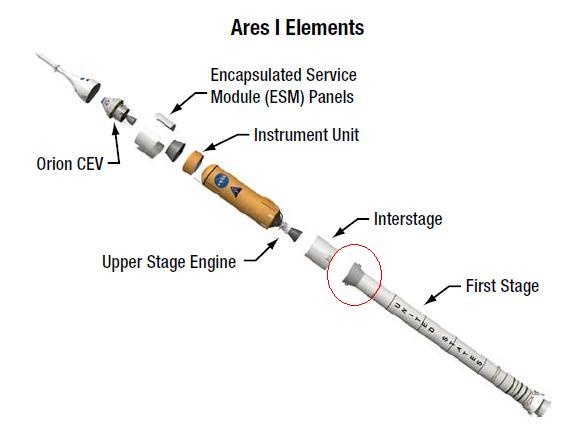 Must be really strong, yet come apart really easily.
The Ares I first stage makes use of technology from the shuttles, in particular the solid-fuelled boosters which are mounted on the side of the main tank for every shuttle flight. The Ares I lower stage is an enlarged, five-segment version of one of these: mounted atop it is a liquid-fuelled second stage and the Orion manned spacecraft.
The liquid upper stage is joined to the solid lower by a casing for the upper rocket exhaust, attached to the cylindrical assembly - the forward skirt extension - at the top of the first stage.
The forward skirt extension thus needs to be strong enough to support the entire second stage and crewed Orion, and hold the whole stack together under massive rocket thrust. It must also, however, be able to blow part of itself neatly off as the lower stage plunges towards the Earth, empty, having done its work and been jettisoned. This is in order to release the three mighty 150-foot main parachutes it contains, which bring the empty rocket in to a safe landing for "hardware and data recovery".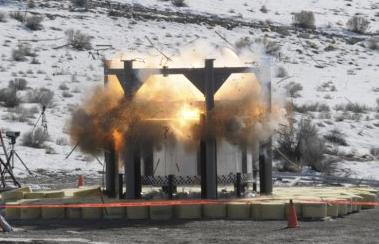 This technology really blows.
This last bit is done by using a linear shaped charge, somewhat like an explosively formed penetrator of the sort now causing so much grief to Western troops in southwest Asian warzones. Instead of focusing the explosion's force on a single point, however, it cuts the top neatly off the 12-foot diameter aluminium cylinder which makes up the forward skirt extension.
It was this process that was tested in Utah last week, entirely successfully according to NASA. The skirt blew off its upper section in textbook style, with the remaining portion left strong enough to take the shock of main chute opening which would follow immediately after.
"The Ares I team is pleased with the completion of this key test that will provide important data leading up to the launch of the Ares I flight," said NASA honcho Steve Davis.
The Ares I test is supposed to take place this year, though the entire Ares/Orion crew launch capability won't be in service until 2015 at the earliest by most estimates. With the shuttles soon to retire and US-Russian relations a trifle chancy in recent times, NASA is keen to get its new astronaut ships up and running so as to avoid dependence on Moscow for trips to the International Space Station. ®
Similar topics