Review AMD has updated its quad-core Phenom processor with a die-shrink from 65nm to 45nm. The first fruits of this labour are the 3.0GHz Phenom II X4 940 and the 2.8GHz Phenom II X4 920, which are both clocked higher than the 2.6GHz Phenom X4 950 so the die shrink has an immediate benefit in terms of raw clock speed.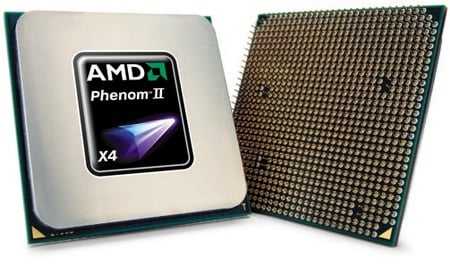 AMD's Phenom II: clock-speed boost...
Despite the process shrink, the die area of Phenom II has barely decreased in size from 285mm² to 258mm&sup2, thanks to a hefty increase in the amount of L3 cache. Phenom X4 has 2MB of L3 cache, but Phenom IIs have either 4MB or 6MB, depending on the model. Both the X4 920 and 940 have 6MB of L3.
One of the more significant changes has been made to the memory controller. AMD has added support for 1333MHz DDR 3 in addition to the support for 1066MHz DDR 2 (PC2-8500) memory that has been carried over from the old Phenom.
This change has the potential to cause problems as the memory controller in the processor has to be matched to the memory slots on the motherboard. AMD has adopted a new 938-pin processor socket called AM3 which is the same as AM2+ but with two pins removed. This means that an AM3 CPU will fit onto a 940-pin AM2+ motherboard with DDR 2 memory to give existing AMD customers an upgrade path, but you can't insert an AM2+ processor in an AM3 motherboard.
If the processor fits in the socket then it ought to work just fine, always provided the Bios recognises the CPU.
When AMD launched Phenom it positioned the quad-core processor as part of the Spider platform, along with a 7-series chipset and ATI Radeon HD 3800 graphics. Phenom II also gets a beastly reference: it's called Dragon when it is used in conjunction with an AMD 790GX chipset and Radeon HD 4000 graphics.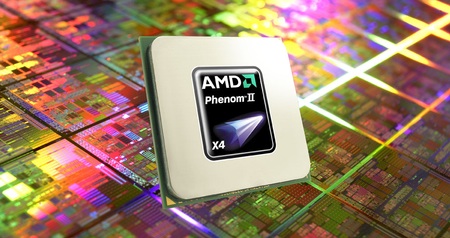 ...thanks to the die shrink
Another benefit of the new fabrication process is that the thermal envelope has been reduced from the 140W we saw with high-end Phenom X3s and X4s to a rating of 125W for Phenom II. TDP isn't exactly the same thing as power consumption, and we found in our testing that Phenom II X4 940 consumes 20-30W less than the Phenom X4 9950 at idle and a whopping 45-50W less when the CPU was fully loaded.
Similar topics