Sony has unveiled the next step in biometric security: a camera-based system that analyses veins in your fingers.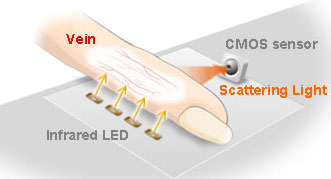 Sony's Mofiria tech: analyses vein layouts
The user first lays one side of their index finger down on a small pad, after which a series of LEDs shine infrared light onto it. A CMOS sensor sat on the other side of the finger then picks up light scattered off of the veins inside the user's finger.
An algorithm uses this information to build up a picture of the user's vein layout. Sony claims that, much like a fingerprint, a person's vein arrangement is unique and that it doesn't ever change.
The whole identification process takes less than one second, but it's unclear if the technology – called Mofiria – can detect if blood's still pumping through a finger's veins. So mafia dons needn't worry yet.
Mofiria could well prove useful as a security system for mobile devices, such as phones, Sony said. It expects to commercialise Mofiria throughout 2009. ®