Ofcom woos theatricals and delays digital dividend
Bows to EU, shuffles Digi TV, buys off luvvies
---
UK regulator Ofcom has published a consultation on the harmonisation of 800MHz across Europe, and proposes shuffling the digital TV bands already in operation and finding a permanent home for wireless mics at channel 38, by paying off the luvvies.
Europe is hoping to make a chunk of spectrum at 800MHz available across the region, to take advantage of economies of scale; but in the UK we're already broadcasting digital TV in that space, not to mention our theatricals' profligate use of wireless microphones. So Ofcom suggests moving the offending DTV transmissions down the dial, and shifting wireless microphones down to channel 38 with luvvies compensated for the kit they've already bought.
Finland, Sweden, France and Switzerland have all decided to include 800MHz in their Digital Dividend bundle: 72MHz of spectrum starting at 790MHz, and it looks increasingly likely that the rest of Europe is going to do to the same. But the UK was an early mover towards DTV and has already allocated the lower end of that band for digital television, so Ofcom proposes clearing out of channels 61 and 62 and extending DTV transmissions down into channels 39 and 40 instead: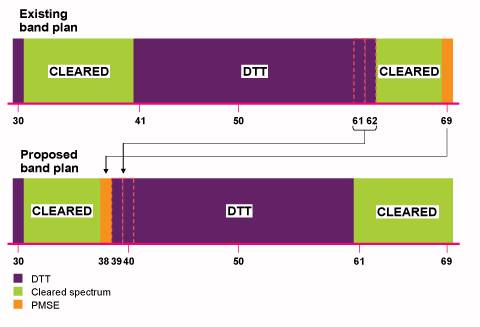 Frequency = (channel * 8) + 303.25
The proposal also includes shifting wireless microphones from channel 69, where they currently hang out, down to channel 38 where there is still room for professional users to expand into the white space (as they currently do from channel 69). Ofcom reckons that move will cost the Programming Making and Special Events (PMSE) industry between £90m and £200m, and the regulator is prepared to reimburse companies that have already bought kit operating solely at channel 69.
Right now there are 1700 licences for wireless microphones at channel 69, though those are held by a relatively small number of companies.
Ofcom would really like to see the PMSE crowd moving to digital transmissions, but respects the views of professionals that the latency and quality of existing digital systems is not up to the mark - for the moment at least.
Channel 38 is only available because the Dutch use it for Radio Astronomy; wireless microphones in a theatre won't cross the channel, but DTV transmissions would, so channel 38 can't be used for anything most significant unless Ofcom can convince the Netherlanders to stop looking at the stars in that particularly frequency.
Those of us using Freeview or similar will need to retune our set-top boxes to allow for the shift, but Ofcom reckons we should be doing that every now and then anyway, so the impact will be small.
All this chopping and changing will delay the whole Digital Dividend sell-off, so it will be 2010 before anyone gets to bid on a chunk of the spectrum formally used to transmit analogue TV signals. That delay makes the schedule fit well with the proposed switch-off of analogue TV in 2012, by which point the Olympics (a huge consumer of radio spectrum) will also be over, and with a bit of luck the economy will be in a state that allows companies to make long-term investments on an uncertain technology.
The consultation closes on 20 April. ®