This article is more than 1 year old
Blizzard of smut cuts off Council websites
From Wittering to ogling, and beyond
If you're seeking smut, you only need go as far at present as the leafy green home pages of West Wittering Parish Council. Or there's Worcestershire County Council's Healthy Schools Forum which, in an area dedicated to "internet safety", advises visitors on where to find "sexy escorts", before inviting them into a chat room to talk with "sexy girls".
This is not the latest bizarre outreach programme from local councils, seeking to reconnect with the sexually frustrated. Rather, it is the result of poor security, compounded by less than vigilant moderation.
Our story began at the weekend, when a diligent reader dropped a list of dodgy searches into our lap. Google for, say, "site:salford.gov.uk" and "porn", and you will turn up more than 1000 links to some fairly unsavoury content.
Who else? If you replace Salford with any of the following, you will get similar results: Lichfielddc (Lichfield District Council); Homecare (National Homecare Council); RCAHMS (Royal Commission on Ancient and Historical Monuments Scotland); Basildon Basildon District Council) and Communitylearningwest Worcestershire (Worcestershire County Council).
And then there is West Wittering Parish Council, which was, until yesterday, where you would find the website for the Parish Council of that name.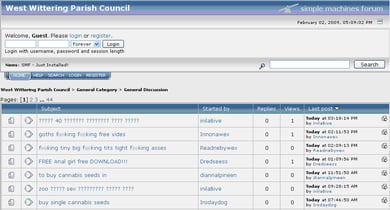 The West Wittering PCC site before it was pulled
According to Paul Baccas, virus and spam researcher at SophosLabs, there may be two quite different processes going on here. In most cases – RCAHMS, possibly: Salford and Lichfield too - all that appears to be happening is a severe overdose of spam. Someone has identified an existing messageboard on the target site, and spam has followed through the hole in the fence, frequently containing links that would forward anyone who clicked onward to another URL.
Known as "link spamming", the purpose of this practice is to boost the search engine rating of the targeted content. That's irritating, but easy enough to fix with a good dose of moderation.