Iran says it has successfully launched its first satellite into orbit using domestic technology. The launch, while expected, will be seen by some in the West as confirming the view that Iran could have nuclear-tipped intercontinental missiles relatively soon.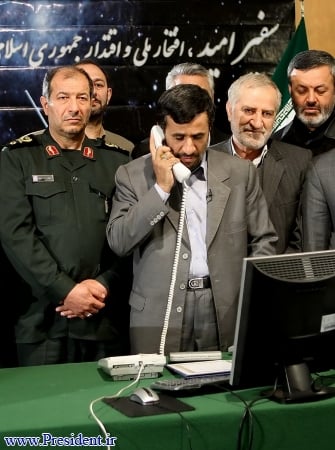 Well done, Doctor! (Aside) Dismiss the firing squad.
The satellite, named "Omid" (Hope), was carried by a Safir-2 rocket, a design previously tested in other flights and always described by Iranian authorities as being capable of putting payloads into orbit. A previous Iranian satellite, Sina-1, was launched aboard a Russian rocket from the Plesetsk cosmodrome in Archangelsk Oblast.
The launch was timed to coincide with the anniversary of the current Iranian regime. The office of President Mahmoud Ahmadinejad said:
On 30th anniversary of victory of the Islamic Revolution of Iran Omid national satellite was sent into orbit successfully here on late Monday. Omid national satellite sent by "Safir 2" rocket to space and set into orbit successfully at the 2nd day of "Dahe-ye-Fajr".
With the launch, Iran joins a select group of nations able to put objects into orbit around the Earth. The UK, for instance, has never built a rocket capable of doing this gave up building such rockets after just one successful try*, has no civil space launching capability, and is reliant on US-supplied Trident missiles to carry its nuclear weapons.
The Iranian rocket's apparent success will cause some dismay in the West, as it is widely believed that Iran - like most countries engaged in serious rocketry - has weapons in mind as much as the peaceful uses of space. The Safir-2/Omid launch is sure to be pointed up by advocates of America's missile-defence programme, which has always been presented as being intended for protection against the nascent North Korean and Iranian missile forces.
President Barack Obama's White House described the Omid launch as "unfortunate". The new US president has previously said that Iran is "breaking the rules" regarding nuclear proliferation, and that strong international sanctions are in order.
Iran feels that it is already under such sanctions, however, with state TV describing the launch as "another great achievement for Iranian scientists under sanctions".
There's more from the BBC here. ®
*The Black Arrow, capable of putting 144kg into orbit, cancelled on cost grounds in 1971 after one success and two failures. Many apologies.
Similar topics