This article is more than 1 year old
What's next for Microsoft's Flight Sim partners?
Redmond clips ACES wings
Flight Simulator developers have called on Microsoft to clarify quickly its plans for the massive flight franchise that's found its way into the defense sector.
Failure to act could see Microsoft lose a familiar and successful operation to open-source and cross-platform competitors as partners drift away in search of alternatives.
Developers who bet their entire businesses on Flight Simulator feel they've been left in limbo by Microsoft's decision to - without warning - close its ACES Studio, which developed the simulator series. The ACES Studio was shut and its 150 staff laid off as part of 5,000 planned layoffs to control costs.
Individuals are putting a brave face on the decision to close ACES, saying they can continue to build add-ins for the current versions of Flight Simulator. After that, though, the future is uncertain.
Scott Phillips, Just Flight marketing manager, told The Reg: "We are just going to carrying on as we were." The reason? "Because FSX [Flight Simulator 10] is still very new and selling well, there are a hell of a lot of new adopters."
Twelve-year-old Just Flight has more than 150 titles, releasing 15 titles in 2008 and plans in the pipe for another 15 this year. Phillips remarked Microsoft's decision could make life easier, as each new edition of Flight Simulator created problems in backwards compatibility of titles.
Beyond that, though, Phillips refused to be drawn and said simply it's "too early" to comment on what might happen in the long term.
Phillips put his faith in Microsoft - faith that could be misplaced. "I don't think it's the end of Flight Simulator. I think Microsoft will come back in some guise as an online version or if they don't someone else will buy the rights," he said.
One ACES insider who was cut, a Reg reader who wished to remain anonymous, appeared to caution against such optimism. He told us via email after the ACES closure emerged Microsoft had killed the studio in the wake of its most successful release - Flight Simulator 10, or X, released in 2006 with 1m units sold. "Microsoft claims of ever bringing back are doubtful. It can never be what it was again. They'd just be branding something else as flight sim [simulator] to sell product," he said.
Flight One Software president Steve Halpern echoed Phillips on targeting existing versions of Flight Simulator. "We've got a pretty good sim in flight sim X... we can't panic yet. We have to see where Microsoft is going to go with this," he told us. Flight One has a catalog of 30 of its own titles, while it resells another 100.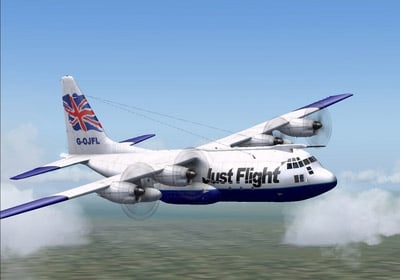 Just Flight's 150 titles add to the basic Flight Simulator fleet
Halpern called on Microsoft, though, to clearly state in the next few months what it's got planned for Flight Simulator so that his company can begin planning accordingly. So far, Microsoft's only issued a bland statement that it's "committed to the Flight Simulator franchise," hinting at turning Flight Simulator into an online service and game.
That's not enough for Halpern.
"We cannot wake up at the end of three years... we have to overlap a shift to another technology if - and it's a big if - we have to do that," Halpern said.
"We have to take some resources a year from now, even tomorrow, and start looking because without Microsoft saying what they are going to do what Microsoft has said in its statements doesn't give us any satisfaction. That's worse, there's been zero reaching out."
Partners clearly feel like they've been left out in the cold by Microsoft who has courted them in the past to help make Flight Simulator a success on Windows XP and Windows Vista.
"We took the bait, and now we don't know where we are standing. And we are talking about a big company that's not about to fold [Microsoft]. We almost feel like someone is not really paying attention," Halpern said.
Flight Simulator is one of Microsoft's oldest running products and something of a quiet successes. Flight Simulator has established itself - like Windows - as a platform that partners like Just Flight and Flight One add value to through plug ins.