'Leccy Tech We reported on the unveiling of the Swiss Mindset leccy coupé back in December 2008. The world of new electric car announcements being what it is, we perhaps wouldn't have been massively surprised if we had never heard another peep out of the company again.
But it's nice to be proved wrong, and even nicer to see that the Mindset is actual a working jalopy rather than a designer's CGI dream. How do we know? Because German car magazine Auto Bild has taken the first prototype for a spin around Berlin.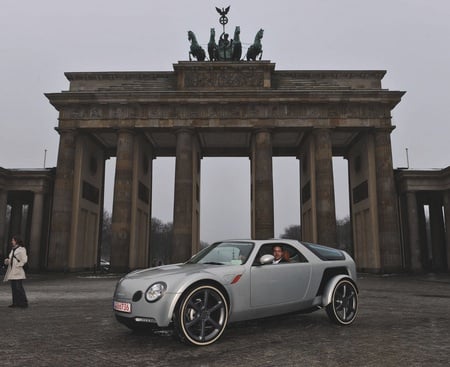 Spirt Avert's Mindset: Berlin bound
Assuming our German is as sehr gut und korrekt as we like to think it is, the Mindset made a favourable impression, though with our being-brutally-honest hat on, we still can't see that many people coughing up the expected €50,000 (£45,000/$64,255) asking price for the finished article.
After all, that's substantially more than the Opel Ampera is likely to cost, and that's a car made by a company its customers have actually heard of - and, more to the point, a company that the US and German governments are unlikely to let go under if the global economy regresses any further into the Middle Ages.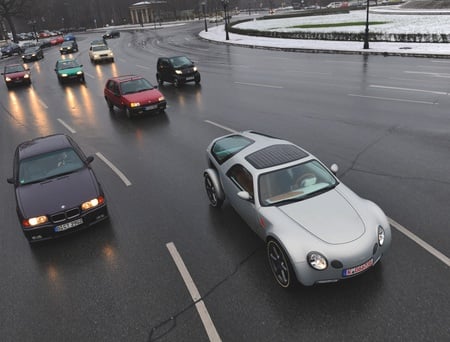 Solar panel still good on a snowy day?
Another question is how much further external investment Mindset needs to get the car into production – the prototype seen here was built by French coach builder Heuliez, which will be knocking out more examples over the course of the year before full production begins in 2010.
Mindset told Register Hardware today that "a limited amount of Spirt Avert [the firm's parent company] shares might be available on the stock market... but mostly we are looking to establish lasting partnerships that help develop the project for the next 3-5 years".
In the meantime, we now also have a few more technical details. The Mindset's battery pack is rated at 20kWh and powers a 70kW (94bhp) electric motor that drives the front wheels via a single speed transmission.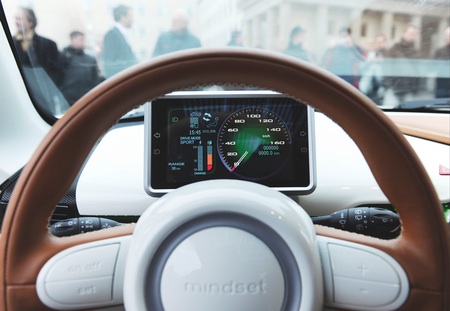 Wheel meet again?
The electric-only range is said to be between 100 and 200km (62-124 miles), depending on driving style, with an ECE average of 180km (112 miles). With the help of the 17kW (23bhp) single-cylinder four-stroke range-extending petrol engine, that maximum range rises to 800km (496 miles), Mindset claims.
Mindset quotes a charge time of between one and five hours, the former accomplished with the help of an optional "quick charge device". Interestingly, the options list also includes a "range extender" which we take to mean to larger battery pack. ®