This article is more than 1 year old
Kyocera Mita FS-C5200DN colour laser printer
Impressive running cost
Review Kyocera Mita isn't perhaps one of the first names to trip off your tongue when considering a new laser printer, but it deserves to be. The company has sold lots of its big-business printers to corporates for many years and its range of smaller mono and colour lasers includes the newly released FS-C5200DN.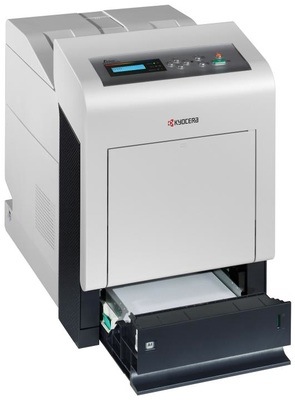 Kyocera Mita's FS-C5200DN: clean and upright look, courtesy of Herr Porsche's less well-known son
The company's main claim to fame is the running costs of its machines. Nearly all of its printers use a unique photoconductor drum – the component on which the page image is built up during printing – with a secret coating which makes it a lifetime component. Under normal use, you should never need to replace the drum, meaning the only running cost is toner. Of course, if the toner's more expensive than everybody else's, a manufacturer's printers may still not be that cheap to run, but Kyocera Mita has always made a lot of its low cost of ownership.
The FS-C5200DN is part of a new range of colour laser printers and although it's billed as a small workgroup machine, by the time you've added the various options, it should cope with sizeable throughput. For a start, it has a main paper tray which holds a full 500-sheet ream of A4 paper.
Too many colour laser printers are provided with much lower-capacity trays than equivalent mono machines selling into the same market. Where's the logic in this? If you've a printer which can print both black and colour, surely you're likely to use it as much or more than a mono-only machine?
As well as the 500-sheet main tray, there's a 150-sheet multipurpose tray which folds down from the front of the machine, so you can load envelopes, transparencies or odd paper sizes. If this is still insufficient, up to three optional trays can be added underneath the machine, though by then it's getting pretty tall and will probably be more convenient to use with the optional stand and paper cupboard.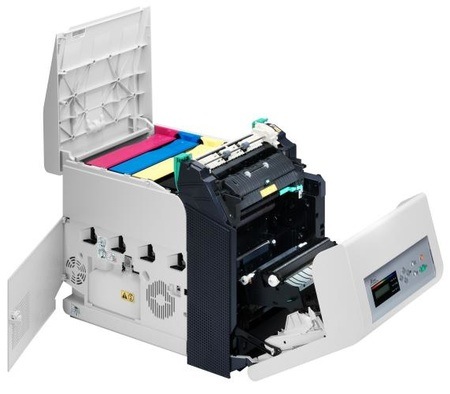 Easy to work on, though most of the time you'll only need to raise the lid
The rather angular lines of the FS-C5200DN are the result of an industrial design by FA Porsche and the simplified control panel consists of a two-line by 16-character, backlit LCD display and a set of eight buttons, for menu navigation and to start and stop print jobs.