Sony has launched a portable device – and we use that term loosely – for wirelessly streaming live camcorder-captured video to, say, your TV.
Can't see the video? Download Flash Player from Adobe.com
Essentially, the user hangs one LocationPorter over their shoulder and then plugs it into their camcorder. The unit will then stream real-time over a 3G or LAN connection to another LocationPorter hooked up to a TV.
The device supports two 3G connections, allowing you to stream live 352 x 240 video at up to 64f/s and a 320Kb/s bitrate. A single 3G connection will stream the same quality video, except at between five and 15f/s over a bitrate of 64-160Kb/s. Over a LAN connection you'll get 30f/s at 1Mb/s.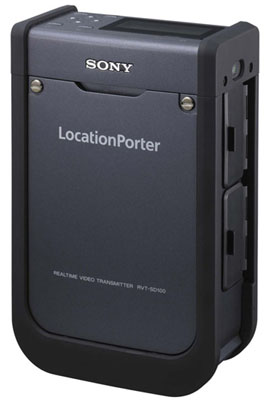 Sony's LocationPorter
Exactly who Sony's targeted as its target audience for LocationPorter is unclear, but a piano-backed video demo shows you just how it can be used.
A launch date or price hasn't been announced, but Location Porter will initially appear in Japan. ®