Acer will extend its lead over Asus this year, as World+Dog buys even more netbooks, causing demand to surge.
So claims market watcher DisplayBank. It calculates that of the of the 14.65m netbooks that shipped globally in 2008, 5.45m were Acer machines while 4.85m were produced by Asus, who's original Eee PC arguably set the whole trend rolling.
DisplayBank's prediction for 2009 puts Acer on 11.3m units and Asus on 6.45m, year-on-year increases of 107.3 per cent and 33 per cent, respectively. That will give Acer 42.9 per cent of the netbook market in 2009 and Asus just under a quarter of the market.
The research reckons HP, MSI and Dell will come next, respectively gaining shares of 6.9 per cent, 4.2 per cent and 3.6 per cent.
In short, Acer will become the Nokia of netbooks this year.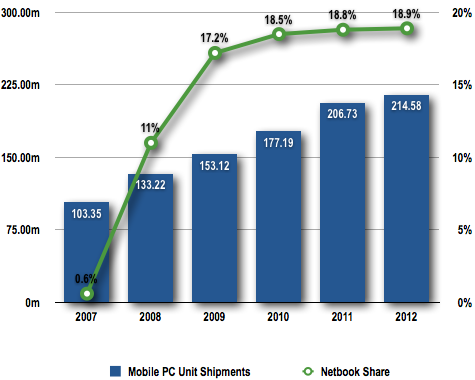 Source: DisplayBank
DisplayBank's forecast for the mobile PC market as a whole anticipates 14.9 per cent unit growth, with 2008's 133.22m shipments rising to 153.12m this year. It forecasts that some 17.2 per cent of those machines will be netbooks - some 26.34m, in other words.
That's a 79.8 per cent year-on-year growth rate, we calculate, way in excess of growth experienced by the mobile PC market as a whole and a sign that demand is shifting toward netbooks.
But it won't lastr - they'll not account for more than 20 per cent of the mobile PC market, DisplayBank reckons, at least not through 2012.
It forecasts netbooks' share of the all portable PCs shipped rising to 18.5 per cent next year - unit-shipment growth of just 24.45 per cent year on year, based on DisplayBank's forecast numbers.
The researcher sees mobile PC shipments continuing to rise through 2012, but after 2010, netbooks' share of the total will plateau at around 18.9 per cent. That's a solid part of the mobile PC market, but shows - in DisplayBank's there's still plenty of demand for bigger, more capable machines. ®