Garmin and Asus have officially joined forces to create an entire series of co-branded "location-centric" - that's GPS to you and me - mobile phones.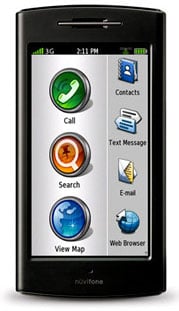 Garmin's Nüvifone: Asus and Garmin will develop several more in 2009
The two companies have already worked together to create the Nüvifone - announced back in 2008 - but Garmin said that the range will now be expanded, with devices put under the Garmin-Asus Nüvifone banner.
Several phones from the new range to be launched this year, the duo said. The first model will be unveiled at Mobile World Congress in Spain later this month.
All future co-branded models will offer the turn-by-turn navigation, points of interest and voice-prompted navigation features found on Garmin's standard satnavs.
They'll also include a Facebook-style application called Ciao! that's claimed to bridge the gap between multiple location-based social networks by integrating them into one device.
But if you're wondering what's happened to the original Nüvifone, then don't think it's been dumped. The phone will be rebranded as the Nüvifone G60 and is set to hit shops during the first half of this year. ®
Sponsored: How to simplify data protection on Amazon Web Services