It's all very smooth and refined. Opening the clamshell is smartly done too. Press the key near the hinge and the phone opens slickly, with the back and front covers matching neatly together around the hinge for an elegantly near-continuous look from the back.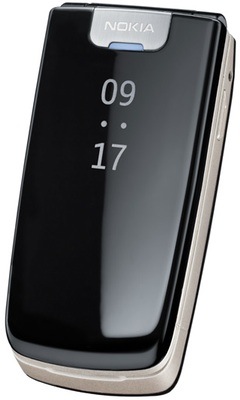 Available in black...
There's minimal buttonry on the sides: just the flip release, along with a micro USB port and a charger socket. There's no separate 3.5mm headphone port.
The numberpad is a neat affair too. The central column of numbers and the navpad are slightly indented from the rest and finished in a matte surface to differentiate them the other, glossy buttons. It actually works very well for feeling your way around the keypad. The buttons are nicely responsive.
The central navigation select button is coloured to stand out. Large-fingered folk certainly aren't going to dig the navpad, though we found it worked fine. The screen is reasonably proportioned for this size of handset: a bright and shining 2.13in, 320 x 240 OLED display, showing up to 16m colours.
No surprises with the S40 user interface - it's a typical Nokia experience. Users can opt for a minimalist home screen, with the navpad offering conventional shortcuts to a quartet of features. Nokia's Active Standby option provides a busier standby display - you can have a choice of five shortcuts ranged along the top of the screen, and/or a mix of additional information updates and function controls – such as calendar, memos and music player status - ranged down the screen.
Once you're past the external tapping and button-pressing, you get a solid set of Nokia mid-tier features. The music player is one such app, though it still manages to put in an impressive audio performance controlled using the navpad.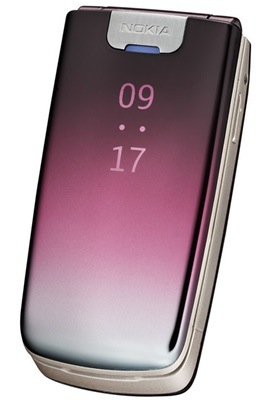 and... er... silvery-purple
All the standard file formats are supported, and tracks can be copied over to the phone easily using the supplied USB cable and Nokia PC Suite software, or dragged and dropped with the phone in Data Storage mode. Nokia supplies a 512MB Micro SD card to supplement the tiny 15MB of on-board storage.