This article is more than 1 year old
Aerielle i2i Stream 2.4GHz music streamer set
Wireless music streaming for dummies
Review While policemen may not be getting younger and British summers may not be getting colder one thing that most certainly is true is that streaming music wirelessly is getting a lot easier and a lot cheaper.
California based i2i's pitch for its new Stream wireless music transceiver is straightforward: you can use it to easily send high-quality audio from any device with an audio output port to any device with an audio input port, or to a pair of headphones.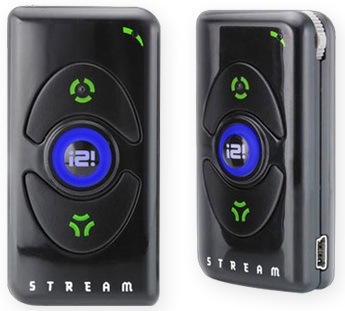 Aerielle's i2i Stream: matchbox sized
In the starter pack, you get two Stream modules, two 30cm and two 70cm 3.5-2.5mm audio cables, two USB cables, two pocket clips and two neck lanyards. The only things really lacking are RCA-to-2.5/3.5mm audio cables but since you can pick those up for a lot less than a fiver, we won't hold that against i2i.
The Stream modules themselves take the form of plastic boxes measuring a matchbox-like 60 x 30 x 15mm and weighing around 60g. At the top of each module is a 3.5mm audio output socket while at the bottom is a 2.5mm audio input. On the right side sits an on-off-volume rocker control and a mini USB port for charging.
On the front of each module are the three main controls: the top one sets the module to transmit, the bottom one to receive, while the third, central button lets you select one of seven colour-coded operating channels.
Somewhat annoyingly, the central button rattles about in its housing which makes the modules sound and feel a bit on the cheap side, though they seem well enough stuck together. According to the technical data that i2i supply, the Stream transmits uncompressed 48kHz, 16-bit audio over the 2.4GHz frequency band. Total harmonic distortion is quoted as less than 0.007 per cent and audio latency as less than 20 milliseconds - i2i calls this "HD Quality Audio", but since its spec is only slightly above CD's 44kHz, 16-bit quality and a lot less than the 24-bit, 192kHz you can get off DVD Audio, we think the use of the initials 'HD' is more about hopping on bandwagons than real high-definition audio.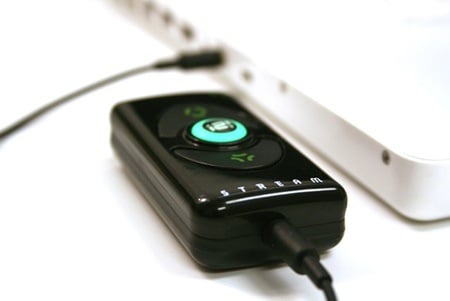 No streaming while charging
Anyway, it all sounds hunky-dory for CD listeners, but does it work? Well, in a word, yes.