This article is more than 1 year old
Half Life 2 used for firefight fire drill
Boffins adapt shooter to teach safety
Learning how to flee your office, apartment block or university dorm if fire breaks out could be as simple as playing Half Life 2 or Doom 3, researchers from the University of Durham have found.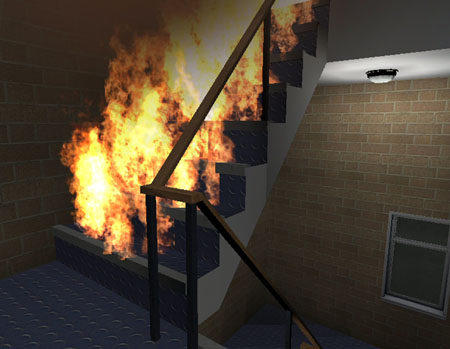 Durham Uni boffins used Half Life 2 to recreate a fire in its computer science department
Scientists there have created a virtual reality model of the university's three-floor computer science department using the Source engine that underlies Half Life 2. The model was programmed with fire alarm trigger, fire exit signs and even spreading fires.
Fire evacuations often fail in real life, the researchers found, either because of a building's poor layout or because people don't follow procedure. The boffins believe virtual fire-drills are a better way of teaching folk what to do in the event of a real fire breaking out.
Can't see the video? Download Flash Player from Adobe.com
The virtual model took three weeks to construct, but a trial of the software discovered that most people found the simulated environment to be realistic. However, those with videogames experience performed better than those without.
Dr Shamus Smith – from the university's computer science department – said fire evacuation scenarios for any building can be created much more quickly and cheaply by manipulating the software code of existing first-person games.
Researchers also found that the code underlying such games could be manipulated to simulate wind, smoke and water hazards.
"Although virtual environment toolkits are available, they usually only provide a subset of the tools needed to build complete virtual worlds," he said.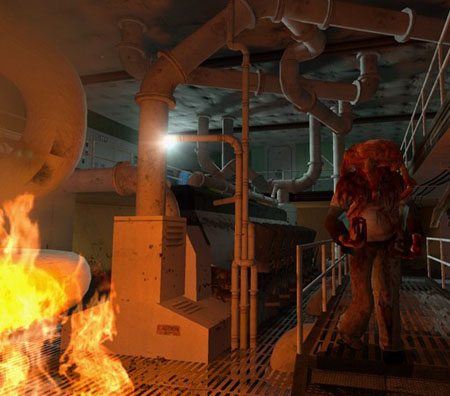 "Oh no, the canteen's on fire again!"
So presumably, a knowledgeable Far Cry or Counter-Strike: Source gamer could mock up a virtual fire evacuation game containing fires on every floor, co-worker eating demons, optional chainsaws and barrels of toxic waste blocking doorways... ®