Third-gen iPhone to run on Nvidia chippery?
Analyst names Apple as key Tegra design win
Will Apple's next iPhone pack an Nvidia ARM-based system-on-a-chip? That's what one US analyst thinks.
Enter Doug Freedman of AmTech, the market watcher formerly known as American Technology Research. Freedman tracks Nvidia, and he reckons the chip maker is pumping development resources into "additional mobile operating systems beyond Microsoft's Windows Mobile and Windows 7 Mobile" so they can support Nvidia's Tegra SoC.
Freedman goes on: "We believe the next OS supported will be company-specific, leaving us to believe it will be either Research in Motion or Apple.
"Should we have to pick between the two we would favour Apple support as a building block of Tegra is from PortalPlayer, a past supplier to Apple iPod products."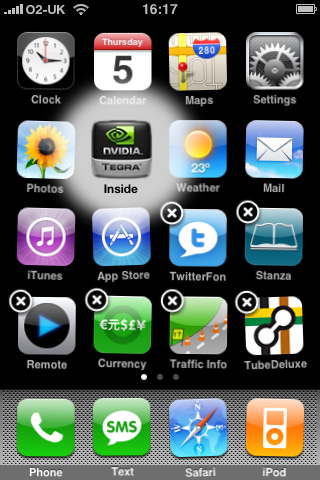 Tegra in iPhone?
Tegra was launched in June 2008. The Tegra 650 can support 1080p HD output using the H.264 codec - another Apple favourite, we note - and can encode video ay 720p. It supports cameras of with sensors of up to 12Mp.
An on-board Ultra-low Power (ULP) GeForce graphics core provides 3D graphics through the OpenGL ES 2.0 graphics API. The 650's ARM 11 core runs at 750MHz, though Nvidia also offers a lesser part, the 600, which runs at 650MHz.
Apple has certainly been cosying up to Nvidia a lot of late, in particular buying in the chip maker's GeForce 9400M integrated chipset for MacBook laptops. It's also been claimed - though not confirmed by either Apple or Nvidia - that the next Apple TV could be based on Nvidia's Ion platform. Ditto a revamped Mac Mini.
At launch, Nvidia said Tegra-based devices would debut "late 2008", but as yet no one has come clean and confirmed they'll be using the part. Freedman believes at least one, "an upcoming Microsoft smartphone with a Qualcomm baseband", will be announced in a couple of weeks at Mobile World Congress (née 3GSM), while handset maker HTC is the second of two Tegra-backing vendors he's tagged.
Register Hardware will be at MWC to bring you all the details. ®