California to get 'space age' three-wheel EV
From Logan's Run to shopping run
---
'Leccy Tech Another day, another odd looking 'leccy car from a start up. Today, it's the turn of Californian car maker Aptera to foist its vision of the future of the automobile upon us, and it's shaped like this: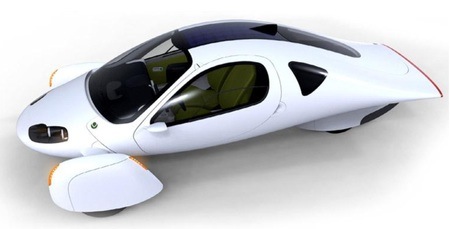 The first three pre-production examples of the 'leccy three-wheeler, dubbed the 2e, rolled out of Aptera's Vista, California factory last week. As if that wasn't exciting enough, the firm also handed out a comprehensive spec sheet at the Technology, Entertainment, Design (TED) conference that's taking place in Long Beach at the moment.
According to the company, initial sales will begin in California later this year – production officially starts in October - with availability right across the US following in 2010. The price? "Between $25,000 and $45,000" (£17,302-30,756/€19,548-35,187), which suggests quite some options list.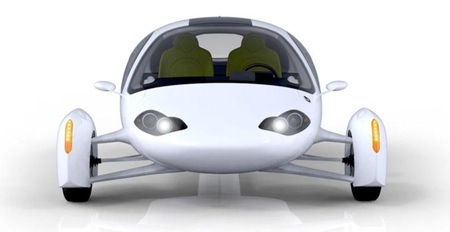 Oh, Sir Clive, where art thou?
The two-seater front wheel drive car – though technically a motor bike as far as US Federal safety authorities are concerned – will have an electric motor capable of delivering 60lb ft of torque from a lithium-ion battery pack rated at "10-13kWh" - presumably the higher number is an optional upgrade that will increase the basic 100-mile range.
No, we didn't forget to ask what the 'leccy motor's power output is. Apetra just ain't telling.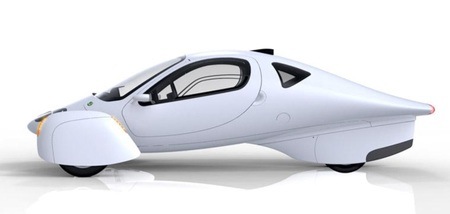 The Jetsons' EV?
Performance-wise, Aptera reckons buyers will see 60mph in under nine seconds and then roll on to a top speed of 90mph helped by a more-slippery-than-a-wet-fart-in-a-thunderstorm coefficient of drag of just 0.15.
Other features include a roof covered with solar cells, fancy gullwing doors, two cup holders and cargo space for up to 15 paper grocery bags - or presumably plastic ones for the less eco-minded.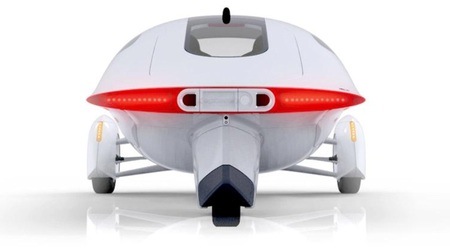 My other car is a flying saucer
According to Aptera, it has 4000 deposits for the 2e, though at only $500 a go – and fully refundable - it isn't too difficult to see a some of those not turning into firm sales.
Aptera reckons it will be building 100,000 2es over the next five years, providing jobs for 5000 Californians. Ambitious claims both, given the current state of the US car market. ®