App brings calls, texts to iPod Touch
A cheap route to an iPhone?
---
Calling all iPod Touch owners! IP telco Jajah has launched an application that adds call functionality to your poor man's iPhone.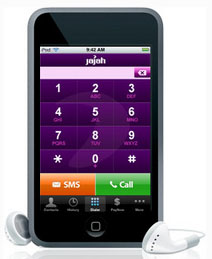 Jajah's app adds calling and texting functions to the Touch
The firm's promised that its app will turn the Touch into "a fully functioning mobile phone", able to make calls and send text messages to any other mobile phone.
All that's required, aside from the app itself, is a Wi-Fi connection and microphone headset. Jajah boasted that call costs will be free or up to 98 per cent cheaper than existing rates on mobile networks – since you'll be using VoIP.
Jajah hasn't rung in with a launch date for the unnamed app yet, but has promised that it'll be available to download through the App Store.
It's worth noting that rival Truphone already has a similar app out for the iPod Touch, but that it only works between Truphone users. ®