Logic3 Valve80 thermionic iPod dock and speaker set
Does pre-transistor technology make a difference?
---
Review Logic 3, maker of accessories for gadgets such as Apple's iPods, has gone up-scale with the launch of the Valve 80 amplifier.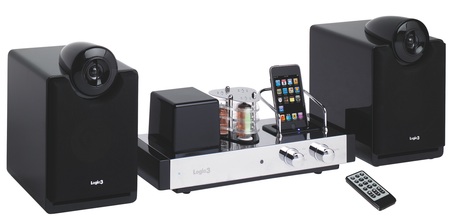 Logic3's Valve80: not shabby looking
Ever since the invention of the transistor, valves have been somewhat sidelined. They're bulky, expensive and take time to warm up and become operational. That said, much as CDs never entirely replaced vinyl records, there's still some life in the old thermionic technology thanks to audiophiles who are happy to sacrifice some convenience for better sound reproduction.
As a result, a few devices have hit the market that use a combination of valve and transistor technology to help bring to life the sounds from our MP3 players.
We'll start with first impressions: the Valve 80 is a very pretty bit of kit. Wrapped in chrome and glass, the unit would make an attractive accompaniment to just about any setting.
The unit comes with a pair of shiny little bookshelf speakers. They have a good feel to them, and the yellow kevlar 10cm cones below the little 2.5cm silk tweeters maintain the trendy, but still understated vibe. The piano black high-gloss cabinets mean they look good if you keep the grilles on. There are sturdy semi-circular rubber feet underneath each speaker to minimise the effect of vibration on the sound.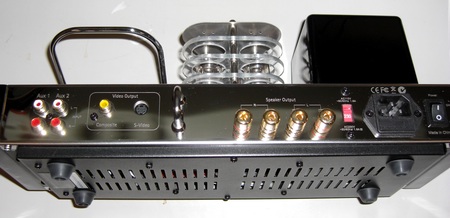 Decent array of ports
Weighing in at a little under 3kg each, the 50W speakers are solid and can amply handle the 40W per channel output of the dock itself. The speakers are connected by some gold-plated banana plugs.
A remote control is also provided, but it's a little on the flimsy side, but it has all the functions you expect to control your music and iPod as well as the volume, bass and treble.
It's primarily an iPod dock, so one of Apple's music players is going to be primary source of music and video in the vast majority of cases. It has composite-video and s-video output ports for video, but there's also a pair of RCA audio inputs allowing users to connect other audio devices such as a CD player.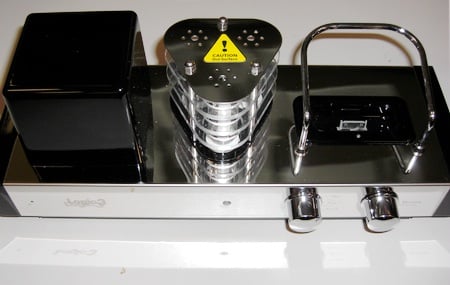 A prop for the 'mad scientist's lab' set?
Of course, if you're shelling out over £250 for an iPod dock, looking and feeling good is only a small aspect. The real question is, how does it sound?