SCO boss to customers: 'Blah. Blah. Blah'
Beautifully measured missive shows way forward
---
SCO Group boss Jeff Hunsaker has done away with corporate speak in his latest seasonal note to partners and customers and replaced it with a terse, blunt message that reads: "Blah. Blah. Blah."
Sadly the CEO and president of the bloodied and bruised software company was not immediately available for comment, but we think this link here speaks for itself and we have a screen dump here just in case it mysteriously disappears. Or just feast your eyes below: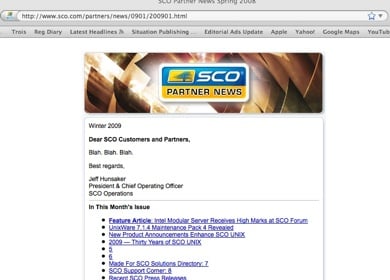 It's just possible that Hunsaker is previewing a new legal strategy, or simply finessing its product marketing message.
The Reg asked SCO to share its views on Hunsaker's "Winter 2009" message to partners and customers, who might find it a little hard to swallow especially in the current economic environment. But at time of writing we're still awaiting a response.
SCO has spent much of the past decade in court facing legal battles with the likes of Novell and Red Hat. In September 2007 it filed for US Chapter 11 bankruptcy protection to offset some of the burden from mounting legal costs.
Late last year a US judge ordered SCO to pay Novell $2.5m after he declared Novell the owner of Unix properties SCO had claimed the rights to.
Just last month the firm announced plans to auction off its Unix and mobile products to ensure their survival while continuing its long-running fight over alleged violations of its IP in Linux. ®