Star Trek Communicator gains VoIP
Set phasers to fun!
---
If you're thinking of Star Trekkin' across the universe, you'll need a decent communications device to alert crew members that there are Klingons on the starboard bow. Enter the Star Trek Communicator.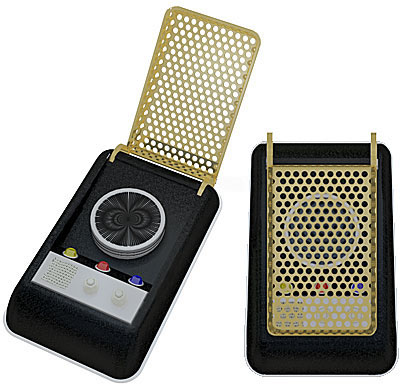 The Star Trek Communicator works over VoIP
According to online reports, web-based gadget retailer Dream Cheeky is poised to unveil a USB speakerphone model. It probably won't connect you to the bridge, but is said to be VoIP/Skype compatible.
The Windows XP and Vista attuned gadget features an independent USB sound controller, speakerphone and microphone, so you'll be able to both make and receive calls. Audio can also apparently be routed to and from the handheld.
A mute button will let you block out Spock's annoying requests for more power, while a velcro backing makes it suitable for attachment to your belt tactical pants retainer or... er... anyplace else where you've stuck some velcro.
Dream Cheeky looks set to launch the Star Trek Communicator into orbit this April, but a potential priced hasn't been beamed down yet. ®
Similar topics
Broader topics