Apple rethinks battery bondage
Patents ponder portable power packs
---
Three Apple patent applications have surfaced indicating the company may be rethinking its policy of using non-user-serviceable batteries in its mobile devices.
One of the applications describes a "host machine" - looking much like an iMac in the accompanying drawings - that has battery-charging slots built into its body.
A second describes how the host machine could communicate wirelessly with mobile devices to monitor their battery power, notify users when it was time for a charge, and talk with other host machines about the state of the batteries it's servicing.
A third describes a "intelligent universal rechargeable batteries" with pop-off end-caps that allow "battery chemicals" to be swapped out when they've reached the end of their productive lives.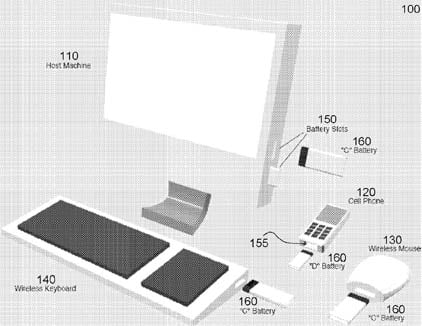 Your Mac may someday double as a pricey battery charger
These filings, if implemented in future products, would be a 180-degree about-face for Apple's burgeoning battery bondage.
Beginning with the iPod, Apple has increasingly sealed its batteries inside its mobile devices. Today, only the MacBook and 15-inch MacBook Pro have user-serviceable batteries. The entire iPod line, iPhone, 17-inch MacBook Pro, and MacBook Air all have their batteries locked inside. They require either a warranty-busting case-cracking or the ministrations of an authorized service technician for replacement.
But these filings point to a day when an assortment of different-sized batteries could be popped into the aforementioned host machine to be charged, then swapped into and out of a broad range of mobile devices, including mice, keyboards, speakers, mp3 players, personal digital assistants, cell phones, laptop computers, microphones, headphones, and headsets.
The filings also describe how a magnetic field produced by either the host machine or the mobile device could flip an internal switch within a battery, so that the battery would only provide power to a matching device.
Apple go on to mention inductive charging, which eliminates the need for metal-to-metal charging contacts. This is familiar to anyone who has used an electric toothbrush. And the company touches on secondary power sources that could take over when a battery has either run down or been removed.
All of the components in this battery system - a network of host machines, mobile devices, and batteries - could communicate with one another about their power needs, charge levels, and available fresh batteries, letting other devices know when they've got power to spare, sharing information about which host machine has what batteries available, and warning devices when their batteries are either running down or in need of new "battery chemicals."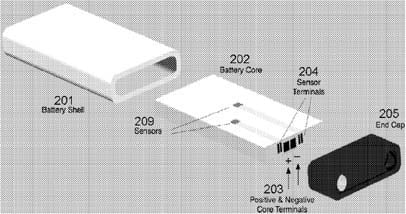 Even batteries themselves could become user-upgradeable
Host machines on the cooperative network could maintain "a record of charging histories" of each of the rechargeable batteries used by the devices communicating with the network and automatically reset those histories when a battery is upgraded with new innards.
Of course, patent filing aren't reliable indications of future products. At minimum, though, these three filings indicate that there may be some debate among the Apple corps about which tack its battery technology should take: multiple intelligent, swappable, refillable, communicative, and user-serviceable power packs or batteries imprisoned in the devices they power.
We support battery freedom. ®