'Leccy Tech The metaphorical dust cover was yanked off the latest 'leccy motorcycle at the TED (Technology, Entertainment, Design) conference in Long Beach, California, yesterday - and an arresting looking bit of kit it is too.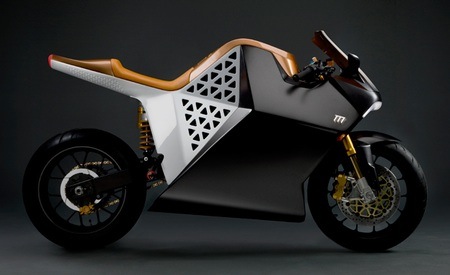 Mission Motors' Mission One: striking looks
Called the Mission One, the bike has been designed by Yves Béhar – who also has the Jawbone Headset and OLPC XO laptop on his list of design credits – and come 12 June, you'll be able to see it do its stuff at the "carbon free" TTXGP race on the Isle of Man.
According to the folk from Mission Motors, the bike will hit 150mph and has an average operating range of around 150 miles. Power comes from a liquid-cooled, three-phase AC induction motor that puts out 100lb-ft of torque via a single-speed transmission.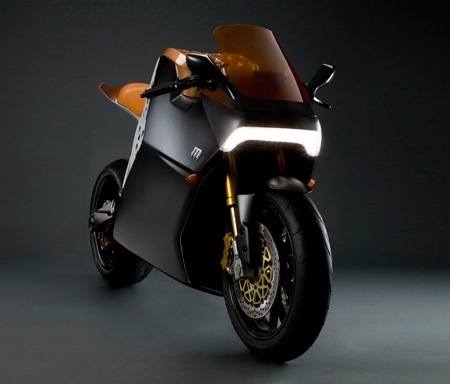 Wheels of Steel - or something more eco-friendly?
The lithium-ion battery pack can apparently be recharged in eight hours from a 120V outlet or in just two and a half from a 240V outlet. The battery can be replenished on the go from an adjustable regenerative rear-wheel brake.
The Mission One will also come "wireless enabled", allowing riders to download technical data and performance profiles and make system adjustments directly from their laptops, Formula One-stylee.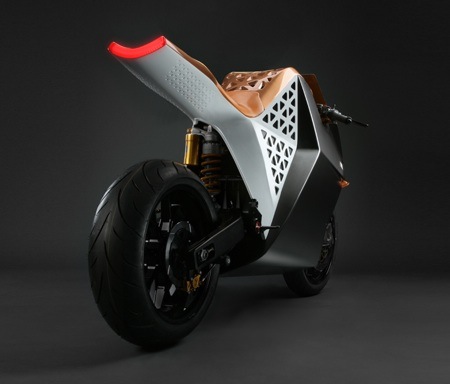 How many Fireblades can I get for that?
If you like what you see, the first 50 "Special Edition" bikes will be ready for sale in 2011 at $68,995 (£47,178/€53,949) a go. Not cheap, we grant you – you could get five Honda CBR1000 Fireblades for that sort of money - but highly desirable nonetheless.
At least desirable to those of us who fancy the idea of a twit-proof twist-and-go super bike. Will it appeal equally to the serious supersport-loving biker brigade who, in our experience, are fiercely proud of their ability to tame and control their complex and powerful mounts? Time will tell.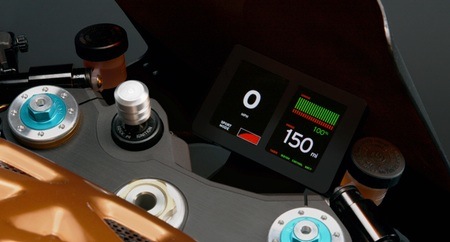 Complete with F1-style telemetry downloads
Either way, come the summer Mission promise to announce the cost of the regular, "affordable" version of the One, though as Forbes.com has pointed out, the $1.5m it has so far raised from private investment and venture capital is only enough to keep it going for six months. Without further, and substantial, investment, the One could remain a pipe dream, albeit a striking one.
Bootnote
While perusing the list of who's who at Mission Motors, the first thing that hit us – after the pretty impressive list of technical and engineering talent on display - was the number of ex-Tesla bods on the payroll, including CEO Forrest North, Finance VP Dan Kaplan and Product Manager Jeremy Cleland - who also served time with Ducati North America.
We are taking the Tesla staff DNA as a good thing – after all the Tesla Roadster has actually made it to the consumer, albeit with the aid of Elon Musk's deep pockets. ®