This article is more than 1 year old
Pentax K-m entry-level digital SLR
One of the best budget DSLRs available?
At the back is a pop-up flash button, viewfinder and e-dial for setting things such as shutter speed, aperture and sensitivity, plus an AF button. Below are a 2.7in LCD screen with 230,000 dots, playback button, info button for displaying the various camera settings, menu button, delete button, and a four-way controller that offers quick adjustment to drive mode, white balance, ISO and flash.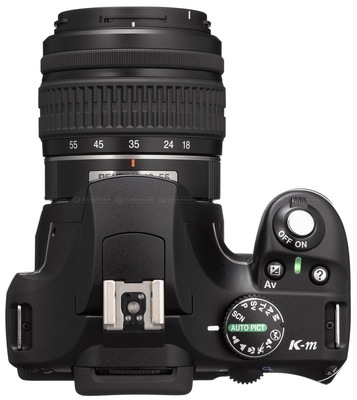 Controls a-plenty
At the side is a flap covering an SDHC card slot, and at the bottom, the battery compartment. The K-m uses AA batteries and you have a choice of lithium, NiMH or alkaline, although the instruction book strongly suggests avoiding the latter two types. We're puzzled as to why, because the K-m worked perfectly well with four alkalines, and we shot dozens of frames and still had power to spare.
A quick rundown of the K-m's specifications includes support for JPEG and RAW (DNG) file formats; a top resolution of 3872 x 2592 pixels; shutter speed range of 1/4000-30 seconds with Bulb for even longer exposures; ISO range from 100-3200; two continuous speed modes; various scene modes and a handful of digital filters (see the sample shots, below).
Naturally, for a camera at this price point, some compromises have been made. There's no movie mode, no Live View and no viewfinder eye sensor system. The info screen remains on until the default time setting switches it off, and the K-m makes do with a five-point AF system. But overall, you get a lot of bang for your buck with this camera.
Can't see the video? Download Flash Player from Adobe.com
When it comes to handling, the K-m is both good and bad. The large mode dial makes it easy to select the various modes which comprise of auto, manual, scene, program AE, shutter priority, aperture priority and sensitivity priority. You can also select various picture modes: portrait, landscape, macro, action, night scene portrait and flash-off. If that's not enough, there are ten scene modes that include night scene, sunset, kid and pets.