This article is more than 1 year old
Pentax K-m entry-level digital SLR
One of the best budget DSLRs available?
It has to be said that the K-m isn't the fastest camera around, and it takes about three seconds to get up and running. That said, we did like the LCD screen, which is clear, bright and provides plenty of information.
The menu system is a bit of a dog's dinner, with lots of tabs. It also involves lots of scrolling, but thankfully, Pentax has put the most commonly used functions on the info screen. Press the Info button, then the OK button and now scroll through a grid displaying the various functions, such as ISO, drive mode, white balance and file format. The four-way controller buttons also offer quick operation.
When it came to performance, there was a lot to like. The K-m produces sharp, crisp images with good contrast, exposure and colour saturation. Noise levels were also low, even at ISO 800. The continuous shooting mode offers two settings: high, which takes up to five frames at a time at 3.5f/s, and low, which reduces the frame rate to 1.1f/s, but continues shooting until the memory card is full.
One area where the K-m suffers is speed, not just in start-up time, but writing speed – it takes quite a while to write data to the card, especially if you're shooting RAW files, continuous frames or at low light. And the five-point AF system is a little slow in locking onto subjects.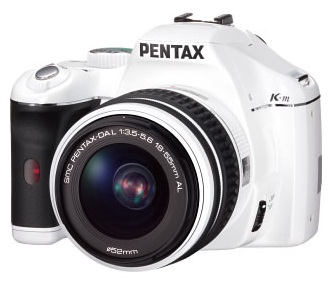 In Japan, you can even get it in white
On a brighter note, we really liked the array of in-camera editing features you get, which include cropping, resizing and picture processing using digital filters - many of these can be used during both shooting and playback. What's more, you can process RAW images and convert them to JPEGs without using a PC.
Verdict
At this price point, and with this level of performance, there's really very little to complain about. Somehow, Pentax have put together a nice package of features at a nice price, without compromising performance to any large degree. If the K-m doesn't force other camera manufacturers to raise their game in the entry-level DSLR sector, we'll eat our collective hats. ®
More DSLR Reviews...
| | | | |
| --- | --- | --- | --- |
| Nikon D90 | Pentax K200D | Olympus E-420 | Canon EOS-450D |

Pentax K-m entry-level digital SLR
A budget DSLR that offers more features and a performance that belies its modest price tag.