This article is more than 1 year old
AMD cores up with Phenom II
Three and four core desktop chips
AMD has officially released a set of Phenom II processors with three or four cores priced to undercut Intel's Core 2 Duo and Quad line on a bangs per buck basis.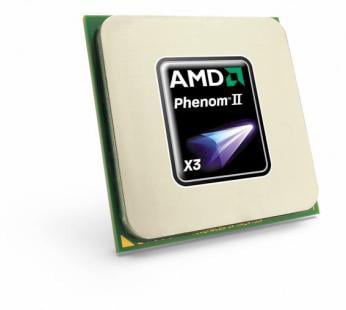 The Phenom II X3 runs at either 2.6 or 2.8GHz and the 2.8Gig variant is said to be 20 per cent faster at a 3D rendering task than a Core 2 Duo E8400 and also priced $20 lower at $145. The four-core Phenom II X4 runs at either 2.5 or 2.6GHz, and the 2.6GHz 810 model has a 159 SysMark 2007 rating compared to a Core 2 Quad Q8200's 146.
That performance edge will cost you $5 more than the Intel chip's $170.
AMD is positioning these chips for consumer desktops and says there is lots of headroom in the technology for faster speeds. Cooling the chips can enable over-clocking with a near three times improvement in clock speed possible if liquid helium cooling is used.
The Phenom IIs are built on a 45nm process and use less power, at 95 watts, than previous Phenoms which needed 125 watts. AMD needs hot chips. It's been suffering as the Intel colossus gets back into its stride. The fourth quarter of 2008 was a dreadful finish to a poor year as AMD made a $1.4bn loss, and 1,100 staff are getting pink slips. AMD has to raise its game and hopes to have significantly changed its fortunes by the end of this year. It will be a phenomenal performance if it manages that.
Reg Hardware had a review of the Phenoms here. ®