This article is more than 1 year old
Dalai Lama's Twitter account is a fake
Always check your karmic sources
Social networking fans on the wrong side of the six-fold path to enlightenment may be heartbroken to learn the Dalai Lama's account on Twitter is a fake.
News of his holiness joining the micro-blogging website yesterday prompted plenty of buzz from even reputable sources, like the Associated French Press.
The account itself even attracted a staggering 20,000 followers after opening. By visiting his so-called page today however, it appears as if the 14th Dalai Lama had already blown this sand mandala.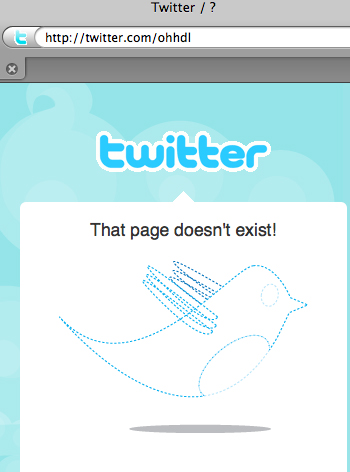 OHHDL for the Office of His Holiness the Dalai Lama
At Reg central, we were split between thinking the account was faked and the missing page actually being a profound lesson in how attachment to impermanent materials will damage our progress to reaching nirvana.
Alas, the former suspicion was proved true to us by Biz Stone, co-founder of Twitter. He told El Reg the account was suspended because it violated the site's terms regarding impersonation.
"Using Twitter to impersonate others in a manner that does or is intended to mislead, confuse, or deceive other is also cited in the Twitter rules," Stone said in an email.
We'll update if we get the dirt on how Twitter figured out the Dalai Lama was an impostor.
Obviously, this isn't the first time Web 2.0 has had a problem with kiddies spreading scandalous and false information appearing to come from a celebrity or public figure.
Last month, 33 hijacked celebrity accounts on Twitter resulted in a so-called Britney Spears tweeting that her vagina was four feet wide "with razor sharp teeth."
As for those who already took the fake Dalai Lama's 140-character messages to heart - next time better check for the official seal of Dharmic quality before attempting to step off the wheel of samsara by way of the internet. ®