Ford partners with British e-van maker to kickstart US EV drive
Any colour so long as it's white
---
'Leccy Tech When Ford announced its electric vehicle roadmap at the Detroit Motor Show, we speculated that one part the plan would be the introduction into the US market of a 'leccy version of the humble Transit Connect.
What we didn't know was that the plan would be a partnership – actually, Ford prefers the word 'collaboration' – with British company Smith Electric Vehicles, whose electric rubbish collecting Ford Transit we saw in action in Huddersfield recently.
A statement from Ford has now made it clear: its US 'leccy vans will be Smith EVs. Of course, this is a no-brainer for Ford as the introduction of electric commercial vehicles was a major part of the viability plan it submitted to the US Congress back in December. Ford needs them on the roads in the US as soon as possible, and simply co-opting an existing production and support strategy from Ford UK was always going to be the fastest way to achieve that.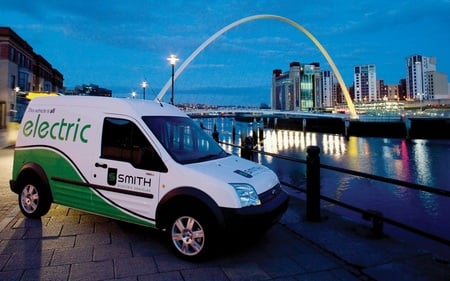 SEV's Ampere: white van man's EV?
In parallel with the Ford statement, Smith announced the foundation of a US operation, called - perhaps not surprisingly - Smith Electric Vehicles US. SEV US will be 49 per cent owned by the Tanfield Group - SEV's UK parent company - and 51 per cent US owned, presumably to get around any pesky North American resistance to buying non-domestic product.
And it will also qualify SEV US for what Smith calls "substantial Federal and regional funding".
SEV US will pay a royalty on every 'leccy van - sorry, truck - sold and is stumping up a £1m ($1.48m/€1.14m) advance which should put a spring in the UK company's balance sheet.
SEV US' first product will be the Newton (né Transit), which will begin production later this year, with the Connect starting to come of the assembly lines in 2010.
Sold by Smith in the UK as the Ampere, the electric Connect has a 50kW motor driven by a 24kWh lithium-ion battery back which gives the half-pint carry-all a top speed of 70mph and a range of around 100 miles per charge. Maximum payload - for those of you interested in such things - is 1764lbs (800kg).
Presumably you can have it in any colour you want, so long as it's white. ®