This article is more than 1 year old
Grand Theft Auto: ChinaTown Wars goes multiplayer
Drive-by shootings, with a friend
A flyer for the upcoming GTA: ChinaTown Wars Nintendo DS game has revealed that it will support multiplayer action.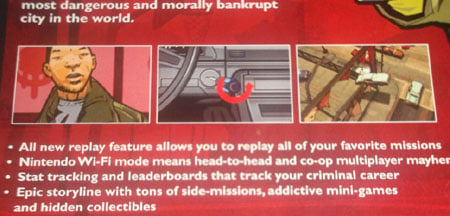 A flyer's revealed GTA: ChinaTown Wars' multiplayer goodness
The flyer was, according to a report by website GoNintendo, grabbed by a fan at the Comic Con event in New York last weekend. One line describing the game's features states that "Nintendo Wi-Fi mode means head-to-head and co-op multiplayer mayhem".
Publisher Rockstar has kept mum about whether the game will support a multiplayer mode, and Amazon UK's description of the game fails to mention anything beyond single-player action.
Hopefully "co-op multiplayer" will let you co-ordinate unprovoked rocket launcher attacks from skyscrapers and high-speed mayhem with an online chum.
GTA: ChinaTown Wars will be released in the UK on 20 March for around £24 ($35/€27). ®