This article is more than 1 year old
Brother MFC-5890CN inkjet all-in-one A3 printer
A big printer for big paper
Review If you need to print on paper bigger than A4, your choices of printer are severely reduced. If you need colour and can only afford an inkjet, they're smaller still, and if you'd like an all-in-one, you're down to half a dozen possibilities. Make that seven - Brother now has its MFC-5890CN, coming in at a touch over £150.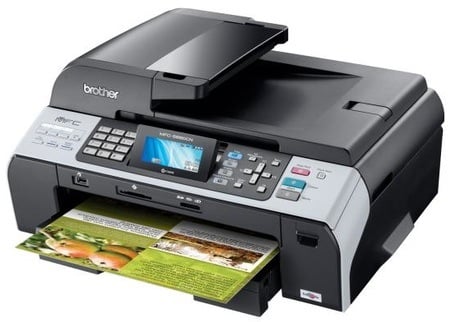 Brother's MFC-5890CN: tank like?
There are more uses for A3 print than you might think. As well as proofing larger documents, you can, for example, print posters and spreads for folding down to A4 newsletters. Brother must have done its market research, as it's introduced two new A3 inkjet all-in-ones to its range. The MFC-6490CW does A3 print, scan and copy, but the MFC-5890CN is a halfway house, with A3 print, but only an A4 scanner.
Although A3 paper has twice the area of A4, it's width is the same as A4's length, and it's only 1.41x longer. This means an A3 printer only needs a carriage 1.41x wider, and Brother makes good use of this by building an all-in-one which isn't monstrous on the desktop. It's about the size of an A4 photocopier of a few years back and is comparatively squat to the desktop.
Its black and silver livery makes it look a bit tank-like too. A fairly tall, 50-sheet Automatic Document Feeder (ADF) sits on top, with a peculiarly high-angled feed tray which flips closed when not in use. Paper loads from a 150-sheet feed tray at the front, but there's no multipurpose feed for envelopes or special media. However, Brother has thoughtfully made both the paper tray and its cover telescopic, so you only need to extend them when printing A3 sheets.
Plenty of room for the wide screen
The extra width of the machine is used well to differentiate the various functions on the control panel. At its left-hand end are function keys for fast-dialling fax numbers, and to the right of these is a number pad for people you don't know so well.
In the centre is one of Brother's trademark, double-width LCD displays. The main advantage of this is that you can preview photos from a memory card while simultaneously seeing a menu of options for things to do with them. There's a lot more space for information alongside the images.