This article is more than 1 year old
Woz goes Strictly dancing
US TV greets the iDancer
The US version of Strictly Come Dancing has secured Apple founder Steve Wozniak as a contestant.
Dancing With The Stars is an ABC reality show which is part of a BBC Worldwide franchise, Dancing with the Stars, based on Strictly Come Dancing. For the benefit of anyone who can actually still afford to go out on a Saturday night, the format sees celebs learn to dance by partnering a professional and competing in front of judges, with a television audience paying to phone in their preferences.
The eighth season of DWTS - Dwits for short, after the status of the celebrities involved - starts in March and the star list includes: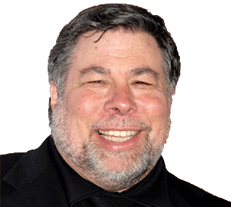 - Belinda Carlisle, lead singer of the Go-Go's, the most successful all-female band of all time
- David Allan Grier, TV and film actor
- Jewel, singer
- Shawn Johnson, the youngest-ever competitor and a gymnast at the Beijing Olympics
- Lil' Kim, rapper
- Gilles Marini, Sex and the City actor
- Ty Murray, champion rodeo rider and Jewel's husband
- Steve-O, self-produced video star
- Nancy O'Dell, TV news reporter and anchor
- Denise Richards, fashion model and actress
- Lawrence Taylor, American football star
- Chuck Wicks, songwriter and singer
- Steve Wozniak, minor computer designer and coder
Dances include: cha-cha, mambo, samba, rumba, paso doble, quick time, tango and something called the American Smooth. The light and trim Wozniak will be taking time off from his demanding duties as Fusion-io's chief scientist to strut his heavyweight stuff around the floor.
Fusion CEO Don Basile said that Fusion will be devastated by the loss of the astute and shrewd corporate account penetrating advice from the substantial Woz, but Fusion will manage somehow.
We'd like to see Larry Ellison invited, but imagine he'd simply tell the show's staff that if they didn't frock off he'd buy the show and fire them or, a much worse fate, have them report to him.
Alternatively, Carly Fiorina and Jonathan Schwartz might be suitable guests. Carly's free, and the way Sun's going...
(If you spotted the deliberate mistake in the dance list, give yourself a pat on the back.) ®