Intel 'accelerates' 32nm chip launch
Keeping up with the meres and the dales
---
Intel is feeling pretty confident about the ramp of its 32nm processors, set for production in late 2009. In fact, the company says it's "accelerating" the process shrink by skipping 45nm chips that were going to arrive later this year.
The upcoming Westmere launch will "de-emphasise*" 45nm Auburndale chips that Intel planned on letting co-exist with its new 32nm line in 2009. Instead, those Auburndale wafers will be used to increase production of Westmere desktop and notebook chips. Intel detailed its revised roadmap at a press event in San Francisco today.
Westmere mobile and desktop chips are still on schedule for production in the fourth quarter of 2009. But Intel wouldn't comment on when OEMs could be expected to introduce products using the chips.
The initial ramp will focus on the mainstream market, rather than chips for high-end PCs and servers. Intel said it decided on its volume ramp platforms well ahead of time. So, according to the company, it's just a happy coincidence that there's a lot more focus on getting cheaper kit during this recession year.
Westmere will launch with two cores and four threads for mainstream desktops and the mobile market. The desktop chip is code-named 'Clarkdale' and the mobile chip, 'Arrandale.'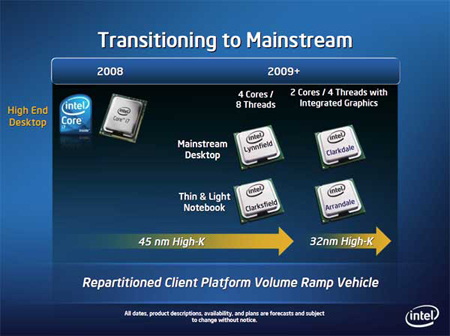 Intel said both Clarkdale and Arrandale offerings in 2009 will have clock speeds at a similar range to what the company has today. But what will give them a boost in performance is hyperthreading and an ability to switch between on-die graphics and discrete graphics. This is the first Intel chip to offer switchable on-die/discrete graphics. The on-die graphics will host a 2-channel DDR3 memory controller.
Westmere will scale to a six-core/12-thread processor called 'Gulftown' later in 2010.
According to the company's roadmap, it doesn't plan on having a 32nm chip in production without integrated graphics this year. The graphics core inside Westmere will be 45nm tech.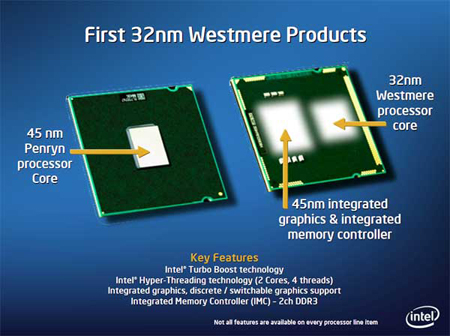 Westmere processors also include Intel's new AES instruction set, which Intel said will be a similar upgrade to adding SSE4.1 in 45nm Penryn chips.
The CPUs will be compatible with Intel's 5-series chipsets.
Intel said it will be baking Westmere chips at its D1D fab in Oregon, followed by the D1C fab in Oregon in the fourth quarter. Production will also begin at Intel's fabs in Arizona and New Mexico in 2010. ®
*nicer to say than "kill" because nobody admits they were wrong.